NPR's Only a Game Features Korfball
---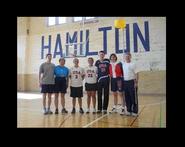 Only A Game, an award-winning weekly sports magazine broadcast by National Public Radio, has interviewed writers John Updike and Robert Pinsky, commentators Bud Collins and Tim Kurkjian, and former athletes Muhammad Ali and Senator Bill Bradley. On Saturday, April 23, Hamilton korfball players will join that impressive group of Only A Game interviewees. The program, produced by WBUR in Boston and heard at 7 a.m. in Central New York on WRVO at 91.9 FM and WAMC at 90.3 FM, will air a segment on korfball and Hamilton's second national korfball tournament.
The event, organized by junior Louis Boguchwal and his committee, attracted participants of all ages from as far as California, Arizona, Michigan, West Virginia, Maine and North Carolina. Boguchwal has worked to engage students in the sport since his arrival on campus from Scotland where he was introduced to the game in his first year of college. "HamilKorf has provided a spark that has reinvigorated the sport in this country. I feel it imperative to develop a solid foundation for U.S. korfball, and the past two national tournaments at Hamilton have been the first steps," said Boguchwal.
Only a Game Associate Producer Doug Tribou, who spent the day with tournament participants, was aware of korfball because Boston University had once had a team that has since disbanded. The more than 30 Hamilton players and members of the U.S. Korfball Federation were able to explain korfball's intricacies to Tribou and share how they became enamored of the game.
During the tournament, the more experienced players, some of whom had learned korfball on U.S. college campuses and others who had learned the game while studying abroad, were able to teach Hamilton students new skills. Two korfball coaches, one from California and the other from New York, were on hand to lend their expertise as well.
Boguchwal is an officer of the U.S. Korfball Federation which meets monthly via Skype. In discussing future federation plans, he said, "The next step is a European korfball tour in summer of 2012. Along with the other U.S. Korfball Federation members, we will put together a team or two to train and compete in exhibition matches and tournaments in the Netherlands and the U.K. We hope that this will plant the seeds for a national team to compete in the 2015 World Games." Hamilton korfball committee members who have been involved in campus events include Ryan Park, Jack Dunn, Dan Schanck, Alex Dorer, Jason Mariasis and Jamie Kamihachi.

Those who wish to hear Saturday's show can also go to the program's flagship station, WBUR, at 7 a.m. or 7 p.m. on Saturday and click on the red "listen live" button at www.wbur.org