Antarctic Larsen Ice Shelf Course Starts July 11
---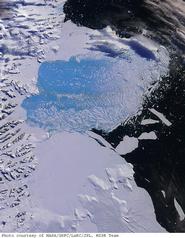 Five Hamilton students will be joined by 12 additional students from seven colleges and five countries (Belgium, Russia, Spain, United Kingdom and United States) for a two-week course on the marine geology of Antarctica's Larsen Ice Shelf. This National Science Foundation-sponsored program, related to the
International Polar Year
(IPY) and the
LARISSA
project (Larsen Ice Shelf System, Antarctica), will take an interdisciplinary approach in examining the reason for the ice shelf's dramatic breakup in 2002.
Eugene Domack, this program's director, has served as the chief scientist during the LARISSA project's first two expeditions to Antarctica. Colgate Associate Professor of Geology Amy Leventer, Associate Professor Scott Ishman (Southern Illinois University), Associate Professor Stefanie Brachfeld (Montclair State University) and University of Houston Visiting Assistant Professor Julia Smith-Wellner will join the program's faculty with Domack.
Hamilton students accepted into the program, which will be held on the Hamilton campus beginning on July 11, include Manique Talaia-Murray, Natalie Elking, Andrew Christ, Madeleine Gunter and Theresa Allinger.
The course is designed to use this catastrophic event as a learning focus to provide students with interdisciplinary skills in:
• marine sediment core examination, analysis and interpretation
• marine geophysical database evaluation
• marine microfossil identification and utility
• organic geochemistry and stable isotope analyses
• use of continuous Global Positioning Satellite (GPS) ground stations to evaluate ice mass fluctuations
These topics will be integrated within the context of the marine record of the Larsen Ice Shelf system and regional to global climate change, using recently acquired marine data sets, sediment cores and imagery.
Student expenses for travel, course materials, room and board and field trips have been paid for by the National Science Foundation (NSF) and Hamilton College and the College's Joel W. Johnson Family Fund for Environmental Studies. The course is offered under the auspices of the International Antarctic Institute (IAI) and course credit is accommodated via the IAI offices at the University of Tasmania and or Hamilton College (Geoscience 285).