NY Program Students Volunteer at Bowery Mission
---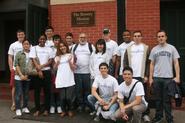 It's inevitable that at times we can get down on ourselves, daunted by the prospect of what lies ahead. The threat of a double dip recession, prolonged unemployment after graduation, or even just a bad grade on a homework assignment can darken one's outlook. At these moments, it's important to put things into perspective, as the Hamilton Program in New York students learned on Oct. 1 while volunteering at the Bowery Mission, the oldest such establishment in New York City. The mission and its sister organizations cater to downtrodden and unfortunate individuals, providing free meals, and even lodging to a select few in an attempt to keep people off the streets.
Steaming cups of coffee in hand, the students made their way north to Bowery Street. The chic boutiques and trendy cafes of Soho slowly gave way to the rougher parts of Nolita, an extremely poor area right in the border of one of New York's wealthiest areas. The students and NY Program Director Professor Erol Balkan entered the Mission's kitchen, donned their caps and rubber gloves, and immediately set to work. Chopping potatoes, onions, vegetables, and washing dishes, the Hamilton New York program students spent five hours preparing lunch for Bowery Mission's patrons.
Community lunch-hour saw a long line of individuals line up for the free meal Bowery Mission provides. Not only the homeless come to the mission for service and a meal; the patrons include those who find it hard enough to make ends meet in tough economic times, just looking for a break from the city's high prices.
The Mission's head chef, Clyde, told the students that he's seen attendance for the Mission's dinners nearly double to almost 250 people per night, an increasing number of those being families bringing their children, whom they would otherwise be unable to feed. These numbers help make a college student rethink his or her problems.
The Bowery Mission is unique in that it accepts no government funding; it is completely private. Wealthy New Yorkers donate enormous sums of money to see that the Mission can carry on, and local grocers such as Whole Foods and Trader Joe's donate premium foods to the kitchen. It is no soup kitchen; the Mission's patrons eat well. Steaks, seafood and fresh fruit are all donated to the cause.
Despite the hospitality, life at the Mission is no cakewalk; men who accept its services immediately enroll in the Mission's Career tech services, a program designed to provide a GED to those who don't have it, and teach them how to successfully provide for themselves in a variety of careers. Microsoft currently has a program with the Bowery Mission, employing former patrons if they obtain the proper computer-literacy certification.
Even Wall Street does its part. Some 35 young men, already millionaires, act as personal mentors to young children born to poor families, pulling them from the public school system and enrolling them in private Christian schools and setting them on the path to their own success. Physicians come every month for free eye examinations and other medical services. Anything that its patrons could need, Bowery Mission provides, all through the generosity of others.
After cooking, the Hamilton students took a tour of the building with Clyde, learning about all of these extraordinary services. The Bowery Mission serves as a sobering reminder of how many people live. It also serves as proof that through the empathy and will of others, those less fortunate can get back on their feet and turn their lives around.