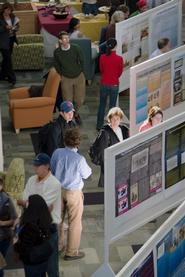 The Fourth Annual New York Six Undergraduate Research Conference will take place on Saturday, Sept. 20, at Hobart and William Smith Colleges in Geneva, N.Y. The event will run from 9:30 a.m. to 3:30 p.m.

The aim of the conference is to provide undergraduate students with the opportunity to present their work at a professional meeting without the barriers of high travel and registration fees. It is also an excellent opportunity for faculty in the area to meet one another, foster collaborations, and share the work of their research labs.

Students will have the opportunity to present their research as an oral presentation (12 minutes) or as a poster presentation (posters should be 4' wide x 3' high). Oral presentations will take place as concurrent sessions that are organized by discipline. Poster presentations will take place over a two-hour period with the opportunity for students to present during one hour and to interact with other presenters in the other hour.

Student presenters should submit abstracts by filling out the form.

The deadline for submitting abstracts is Friday, Aug. 29. Students and faculty will be notified of their acceptance by Sept. 5. Anyone with questions may contact conference coordinator Christine de Denus, associate provost at HWS, at deDenus@hws.edu.