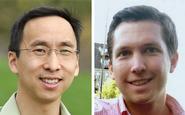 "Manning or Leaf? A Lesson in Intangibles," a New York Times article that addressed the decision-making processes used in selecting players for professional teams, referenced a study of performance versus pay in the NFL draft conducted by Professor of Economics Stephen Wu and his student Kendall Weir. The May 5 article reported that, "A 2012 study by a professor and a student at Hamilton College in upstate New York concluded that a player's running afoul of the law was less significant as an indicator of future performance than run-ins he may have had with coaches and teammates." "Criminal Records and the Labor Market for Professional Athletes: The Case of the National Football League" is forthcoming in the Journal of Sports Economics.
The Atlanta Journal-Constitution featured an interview with Wu focused on the same study in its Sunday, May 4, edition. In "First person Stephen Wu; Draft strategy has penalized players," Wu explained the methodology and results of his and Weir's study. "We collected data for all 1,273 players drafted into the NFL between 2005 and 2009. Compared to players without 'character concerns,' these prospects fell between 16 and 22 spots in the draft. We studied how well they performed by measuring the numbers of NFL games played and started.

"The other players drafted in the same round were our control group, and we also looked at variables such as whether drafted players came from teams in the AP Top 25 rankings. Like in the movie "Moneyball," we wanted to use statistics to think about ways to evaluate talent. More teams are employing mathematicians and statisticians to crunch numbers like this for a competitive edge.
"We found that the players who have a history of criminal charges were penalized too much in their draft position. On average, having an encounter with law enforcement does not negatively predict performance."
Wu used Tyrann Mathieu to prove his point. Mathieu's arrest on marijuana charges knocked him down in the draft, but he outperformed other players selected in his round.
"The players who were suspended for team or university violations weren't penalized enough," Wu continued. "They did not perform as well as players drafted in the same round. We don't know the exact nature of team suspensions, but these are often for clashes with a coach or teammate.
"In a nutshell, what this means is that if a team is on the fence about drafting a player who had been suspended for clashing with his college coach or violating team rules, the team might not want to take that gamble. But it might be less risky to draft a player with a criminal record.
"We think teams could benefit by taking more risks, on a case-by-case basis, to draft players with criminal histories. A run-in with the law may or may not reflect on long-term character; teams could use this research to enhance their decision-making."