NYC Artist James Siena to Lecture at Hamilton
---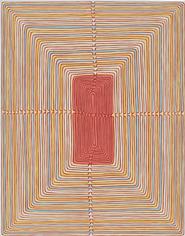 American contemporary artist James Siena will present a lecture on Wednesday, Nov. 6, at 4:30 p.m., in the Bradford Auditorium, KJ. The lecture is a part of the Art Department's Visiting Artist Series and is free and open to the public.
Siena earned his bachelor of fine arts from Cornell University. His artwork is driven by self-imposed predetermined sets of rules, or "visual algorithms," which find their end-result in intensely concentrated, vibrantly colored, freehand geometric patterns. He works across a diverse range of media, including lithography, etching, woodcut, engraving, drawing and painting. Siena's work stimulates both the eye and the brain by producing multiple visual and psychological effects through his hand-rendered procedural abstractions.
Siena has taught at various schools across the nation such as Mason Gross School of the Arts at Rutgers University and the San Francisco Art Institute. Siena has contributed to more than 100 solo and group exhibitions since 1981. He received an award from the American Academy of Arts and Letters Invitational Exhibition in 2000. His works are featured in many museums and collections, including the Metropolitan Museum of Art, the San Francisco Museum of Modern Art, and the Whitney Museum of American Art. Siena is currently represented by The Pace Gallery in New York and Daniel Weinberg in Los Angeles.