NYC Artists Welcome Senior Art Majors to Their Studios
---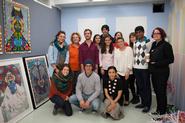 Ten senior art concentrators, led by art professors Katharine Kuharic, Rebecca Murtaugh and Robert Knight, had the opportunity to travel to New York City to see the studio practice and work of established artists on Nov. 5-6. Students were able to meet and spend time with each individual artist whom they had researched in the week prior to the trip. The artists included Saya Woolfalk, Deana Lawson, Matthew Day Jackson, David Humphrey, William Villalogo and Jason Karolak. The Dietrich Foundation and the Kirkland Endowment supported this event.
The senior art concentrators James Grebey, John Powell, Marika Paras, Antonia Villa, Mary Swartwout, Asya Snejnevski, Holly Bailey, Perry Ryan, Kelsey Hiscano and Shawon Akanda, were constantly on the move from one studio to another, gaining insight and inspiration from the six artists. Each artist presented their most recent works and described their process and career as an artist.
The artist hosts offered valuable advice to the students. Matthew Day Jackson encouraged the concentrators to inspire and feed off of one another. Deana Lawson told the students to look for intimate exchanges in life that capture vulnerability and foster human exchange. David Humphrey recommended his challenging studio practice that embodies working on several pieces that are different at the same thus pulling the artist in many directions of thought.
Hamilton professor Robert Knight noted, "The Senior Art Trip to New York provided our students with a wonderful opportunity for one-on-one discourse with professional artists at various stages in their careers. The artists were incredibly generous with their time and spoke to us honestly about their process, intentions, challenges and inspirations.
Knight added, "I'm confident that the students will return to Hamilton with a renewed focus for the projects that they are pursuing, and a deeper understanding of how to most effectively achieve their goals. As a new faculty member," he said, " it's exciting to see the unique opportunities being afforded our students, as it is precisely this kind of experience that can accelerate our students on the path to becoming successful artists."
Overall all the students agreed that it was an exciting trip that has not only motivated them but has encouraged them to think about their art from a new perspective.