NYC Program Students Enjoy Metropolitan Opera Performance of Aida
---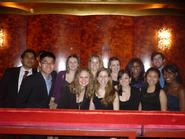 On February 16, participants in the Hamilton's New York City program attended a performance of Aida at the Metropolitan Opera. Aida, an opera of four acts by Italian composer Giuseppe Verdi, tells the love story of an Ethiopian princess enslaved by the Egyptians and an Egyptian war captain.

"The Met put on a fabulous production of Aida in the classic tradition of opera: spectacular sets, moving arias, rousing choruses, and all the passion and tragedy you'd expect from Verdi," said NYC program director Daniel Chambliss, Eugene M. Tobin Distinguished Professor of Sociology. "I think the students were wowed by the whole production."

Indeed, program participants gasped at the visual splendor of the production, particularly when live horses appeared onstage during the famous Triumphal March. The March itself garnered much appreciation from the Hamilton students, who agreed that they recognized the theme but had never known it originated in Aida. Students ultimately found the production extremely engaging and moving.

"The ending was beautiful," said Chelsea Wahl '13. "I teared up a little bit."
Students also enjoyed a delicious dinner at Nick and Toni's before the show.
Food has been an integral part of several NYC program outings this semester, including lunches Nancy Lee's Pig Heaven for the Chinese New Year and Katz' Deli for a day on the Lower East Side. At Katz' Deli, students enjoyed the restaurant's renowned Reuben sandwiches, the opportunity to sit at table that appeared in a famous scene from When Harry Met Sally, and a celebrity sighting of Kal Penn (Harold and Kumar Go to White Castle, House, How I Met Your Mother).

The exploration of the Lower East Side on Feb. 2 also included tours of the Eldridge Street Synagogue and the Tenement Museum. The outing united students' desire to tour more of the city and their current studies in biology. "The tours gave students a window into the lives of the Russian Jewish immigrants whose health issues we've been studying, focused on the cholera and typhus outbreaks in 1892," said program co-director Susan Morgan.
The synagogue and the Tenement Museum both transported students to a different era. "To see a black and white photo is one thing, but it's different being there," said Emily Sherry '14.

"Today was my first time stepping foot in a synagogue," said Jessica Griffith '13. Griffith, currently interning at Christie's, found the synagogue particularly interesting from an artistic and architectural standpoint. "I was happy to see that they chose to restore the sanctuary." She, like other participants, was eager to immerse herself in the trappings of an earlier time, and recent restorations made that possible.

Hamilton NYC program participants next look forward to attending a performance by the New York Philharmonic.