NYC Program Students Visit Citigroup
---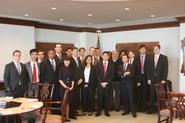 Students in Hamilton's Program in New York City recently attended a breakfast hosted by alumni at Citigroup, giving them a chance to informally connect with alumni in the industry. Citi's banking offices are located in Tribeca, not too far from Hamilton's apartments in Battery Park City. The event was hosted by alumni Jeffrey Schackner '89 and Peter Tague '88. Schackner heads Citi's Global Consumer group, and Tague is a vice chairman of Mergers and Acquisitions (M&A), and former head of Citi's European M&A operations. Recent graduates Mark Clark '11 and Perrin van Allen '11, both financial analysts at Citi, also attended.
The breakfast began with a brief introduction of the two senior bankers, each giving their history and path taken since graduating from Hamilton, providing a few entertaining anecdotes for the group. Tague, an anthropology major at Hamilton, had thought he would surf in Australia after graduation, but instead found himself working in the very first analyst class at Chase in leveraged finance. Schackner took a more direct route, and attended Columbia Business School before going to work for the Schroders (bank) M&A team.
The pair fielded questions from Professor Erol Balkan and the students on the debt crisis facing Europe, and made it very clear that the United States will very shortly feel its effects; the contagion will not be limited to the Eurozone. Tague said that this current crisis really stems from political issues, whether fiscal irresponsibility or an unwillingness to collaborate with other members of the EU. Discussion of monetary and fiscal issues followed, the effects of which currently ravage the Eurozone economy.
Schackner went on to describe the effects of the crisis on his services and business, which clients demand right now as more than ever corporations around the world require advice on how to successfully weather the financial storm.

Following the current events discussion, the senior bankers opened up the floor to questions regarding interviews and employment in the industry out of college. Clark and Van Allen fielded many of the questions, providing the students with useful insight and tips on how to best navigate the grueling interview process at investment banks, and more importantly, how to be successful once employed. The senior bankers provided the group with some very useful parting advice regarding leveraging a Hamilton education.

"It's very easy for us to hop on a train down to Philadelphia, and hire the Wharton kid with a 4.0. He needs to give us a reason not to hire him. Coming from Hamilton, you need to provide us with more of a reason to hire you," Tague told the group. Schackner added that the best analysts he's ever had have been liberal arts majors, they're just less common in the business. "Hamilton gives you the tools," he added. Students need just utilize the training education that Hamilton provides.