NYC Program Visits Alumni at Barclays Capital
---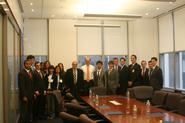 On September 21, students in Hamilton's New York City program visited the Barclays Capital building for a discussion hosted by Hamilton alumni George Mack '93 and Alexandra Leighton '09. Barclays Capital, located on 49th Street and 7th Avenue, is one of the world's premier investment banks.
Mack highlighted current market conditions, specifically analyzing the still ongoing European sovereign debt crisis and its possible implications for the world's economies. To engage the participants more, he posed questions and asked the students for their opinions on the crisis. Mack explained his work with restructuring before Leighton went on to explain the process behind an Initial Public Offering (IPO).
Finally, Mack and Leighton gave the group advice about working on Wall Street and the job-hunting process.