Odamtten Guests on Wisconsin Public Radio
---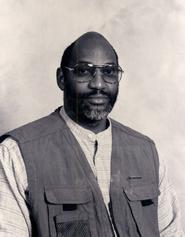 Professor of English Vincent Odamtten was one of two guests on Wisconsin Public Radio's show "Here On Earth" on July 13. The program was focused on Ghana's place in Africa, President Obama's visit to the country and what Africans can expect during the Obama administration. Odamtten, a native of Ghana, said that he thought President Obama's speech was well balanced with good points but he asked, "Will words be followed by deeds?"

He discussed the population's desire for democracy since 1957 when Ghana gained its independence from the U.K. and the "perversion of development" that followed in the nation's effort to secure aid by pitching the two world powers, the United States and the Soviet Union, against each other during the Cold War. Odamtten said that there was not much concern either from the East or the West about what was happening on the ground and that the world powers preferred that the country be run by a single leader who could be controlled by outside forces. The hour-long show continued with audience calls and questions.

Odamtten summarized Obama's visit and speech by describing it as "uplifting with positive consequences." Adotei Akwei, vice president of C.A.R.E., was the program's other guest.