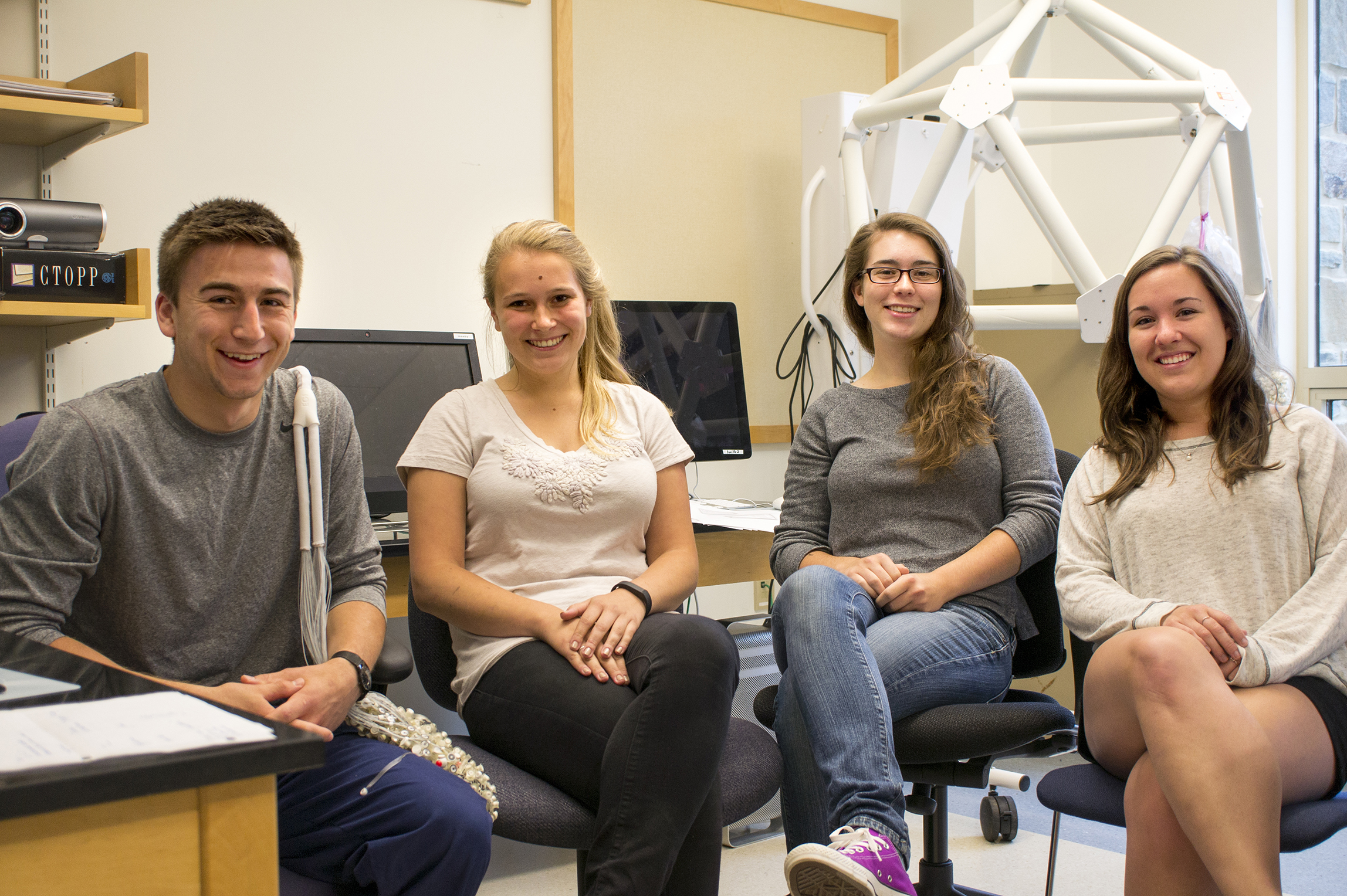 Scrutinizing the pages of Where's Waldo?, searching for that pesky beanie and striped shirt, your brain is working hard to spot the elusive traveler. This summer, four students are examining various components of visual attention with Assistant Professor of Psychology Alexandra List. Katie Callahan '15, Christi Westlin '15 and Alex Mitko '16 are each working on one of the three elements of the study, "Visual Attention: Failures, Dynamics and Interaction with Auditory Attention," and Hannah Zucker '15 is doing an interdisciplinary project.
Callahan, a neuroscience major, is focusing on dual modality attentional research; her portion of the project is divided into two studies. Both parts are examining increased visual attentiveness to a stimulus after being exposed to a haptic or auditory primer. Callahan used a 3D printer to create several small objects that participants hold in their hand while watching a computer monitor. As objects appear on the screen, she uses eye-tracking technology to measure the speed of the participants shift in attention. The study aims to show that while an individual is holding an object, he or she will attend more quickly to similarly shaped stimuli on screen. The experiment is then repeated using an auditory primer in lieu of a haptic one.
Westlin, also a neuroscience major, is building off of a previous study that concentrated on inhibition of return. To understand this, think about searching for Waldo: one is more likely to look in places that haven't already been checked before returning to a previously searched area. Westlin will use a series of moving stimuli to look at whether objects are attended to individually or as a cluster.
Mitko, a neuroscience and sociology double major, is using Electroencephalogram (EEG) technology to investigate the brain correlations of illusory conjunctions.
Mitko explains that our brains do not process visual information holistically, but rather assigns each feature to an object. His study measures brain activity while participants watch different colored stimuli fleetingly appear on screen. Because the graphics disappear rapidly, the brain erroneously binds the color of stimulus A to stimulus B, an illusory conjunction. Last semester Mitko worked with Professor List to learn the basics of the E-Prime software, a highly-specialized and sophisticated program required for designing EEG experiments.
Zucker, a neuroscience major and art minor, is combining her passions to create a neuroscience graphic novel. She has experience painting, drawing and printmaking, but this will be her debut for this medium. Zucker looked through many comic books for inspiration and is enthusiastic about the project. The graphic novel, which features several characters, all of whom are named after famous neuroscientists, will be used in List's Cognitive Neuroscience course to help students learn about neuroimaging research methods, such as fMRI, PET, EEG, MEGO and TMS techniques.
After graduation next spring, Callahan plans to attend medical school, while Westlin and Zucker intend to continue studying and researching neuroscience at the graduate school level. Mitko will remain on the Hill another year, but is currently considering becoming a professor of neuroscience, sociology or a combination of the two.