O'Neill Prepares for Agha Shahid Ali Project
---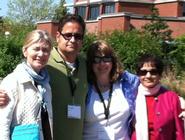 Janet Simons and Angel Nieves, co-directors of the Digital Humanities Initiative at Hamilton, and Hena Ahmad and Patricia O'Neill, professors of English at Truman University and Hamilton College respectively, attended the 10th annual Summer Institute in Digital Humanities at the University of Victoria in British Columbia June 4-11. More than 100 librarians, faculty and graduate students attended this year's institute representing an impressive array of scholarly work in digital humanities.
While Simons and Nieves honed their skills as project managers of large grants and projects in the digital humanities, Ahmad and O'Neill received conceptual and practical training in digitization fundamentals for the "Agha Shahid Ali Project." With institutional support from Hamilton College and the Mellon Foundation grant for Digital Humanities, Ahmad and O'Neill will begin their proposed digital archive of the life, work and legacy of Kashmiri-American poet and former Hamilton professor Agha Shahid Ali.
The archive will include audio-visual recordings of Shahid's poetry readings at Hamilton and other colleges and poetry festivals, searchable personal documents and papers and links to critical and artistic work that has been inspired by Shahid's poetry.