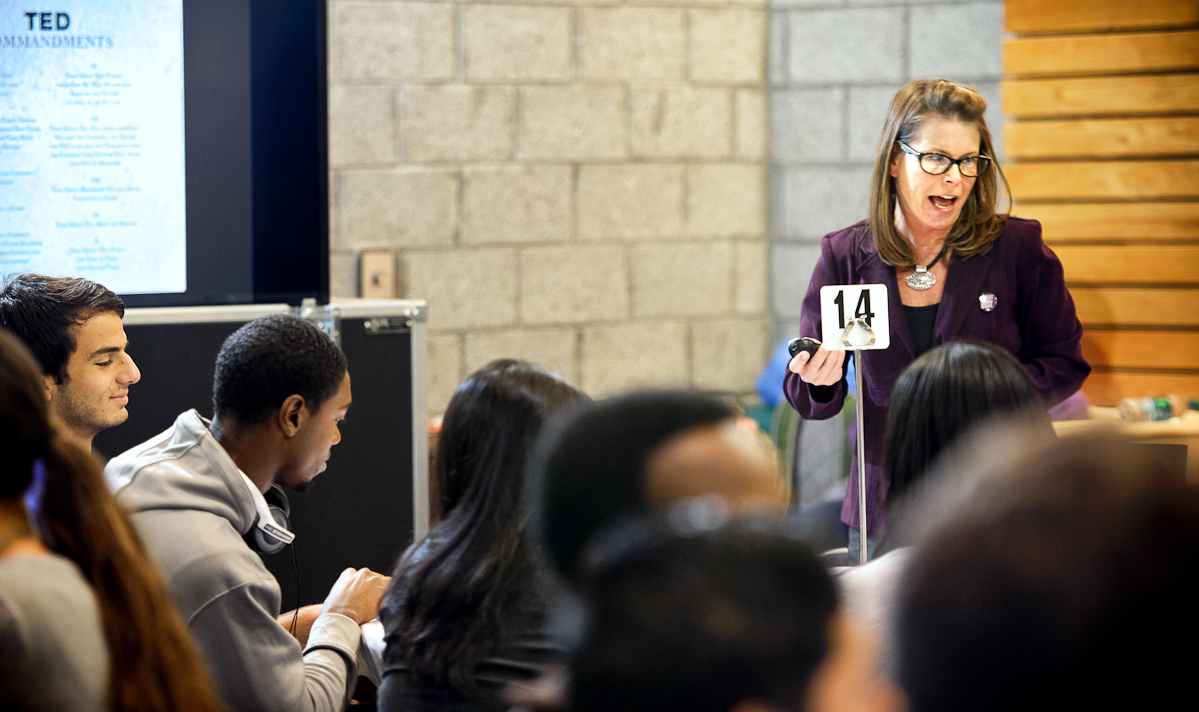 The Oral Communication Center (OCC) hosted "Hamilton Speaks: Improve Your Public Speaking in Six Minutes or Less," an hour-long, lunchtime event on Oct. 29. It featured student workers, faculty/staff members and visiting professionals, who were each given exactly six minutes to give advice or information on some aspect of oral communication.
Once the six minutes were up - as clocked on a large projector screen - participants would move to another table in the room and start the process again. In total there was time for six rotations and a quick, bagged lunch provided by the OCC.
As a participant, I was able to visit six tables occupied by a diverse group of public speaking experts. The first table lecture was led by Associate Professor of Theatre Mark Cryer, who discussed the issue of articulation in public speech. Cryer spoke of the importance of "the tongue, the lips, the tips of the teeth" in order to shape every word with the proper effort it deserves. "Vowels give the words rhythm and consonants give the sense," Cryer said. This is particularly vital for American audiences whom Cryer described as "notoriously lazy…If your audience cannot easily understand you, they phase out fast." In order for them to stick with you through the end of your presentation, you must speak with articulation.
Another table was led by Cindy Buckley-Koren, associate professor of communications design at the Pratt Institute, and founder of The Meetinghouse, a creative collaborative based in Utica. An occasional Utica TED-EX contributor and self-described "TED super fan," Buckley-Koren provided some basic must-haves in any public speech: graphics, sound bites and an authentic story. Exhibiting these details in an accompanying TV powerpoint, Buckley-Koren advised her guests to "make yourself vulnerable…Make them laugh and clap and gasp."
The third table I visited was run by Josh Glen '16, an OCC student employee. Glen focused on the significance of body language in complementing oral communication forms. Specifically, he cited Amy Cuddy, a social psychologist who studied the effect of body language on self-confidence and personal success. "Two minutes of striking a power pose can influence how you are perceived in job interviews," Glen explained. Cuddy also found that just faking physical positions of power can both increase testosterone levels and lower cortisol levels.
Table four held Health Center Director Aimee Pearce, who discussed proper oral communication in medical offices. Because of situational barriers not often found in other offices, it is important to remain calm and clear, so patients and their families can be at ease and fully understand the report. Dr. Pearce noted that she always sits down with the patients in order to create an equal dynamic; she smiles and calmly, politely asks the patient to tell her why they are here, even if they both already know. After relaying any medical information or feedback, she is always sure to ask "Does that make sense?" This, Pearce explained, helps boost medical compliance and reassure the patients of any presupposed power dynamic or felt discomfort.
Other speakers included Research Librarian Kristin Strohmeyer, who shared the importance of relevant and accurate content (primary resources and statistics) in oral presentations—showcasing the Library's special collections and many digital resources—and Jay Williams '83 P'11, a lawyer, Kirkland town justice and pastor in Augusta, who stressed the significance of understanding one's audience and never using specialized lingo with people who cannot connect with it. "Whenever you speak," Williams counseled, "make sure you know the audience you're speaking to."
Fast-paced and insightful, "Hamilton Speaks" provided students and faculty alike with important skills and advice on oral communication, from a range of peer and professional perspectives.