Our Backyard Classroom
---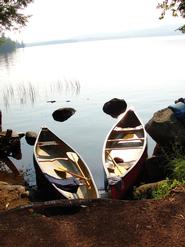 Through Hamilton's off-campus study programs students can witness the inner workings of government in Washington, D.C., or experience the heart of the U.S. financial and publishing industries in New York. Now they'll have yet another option for off campus study, a bit closer to campus and in a far less urban setting. Hamilton's faculty recently approved the creation of a pilot off-campus semester-long Program in the Adirondacks. The proposed start date is fall 2015.
Professor of Physics Seth Major, a member of the Adirondacks program committee explained the concept of the program that is modeled on Hamilton's successful programs in New York and Washington, D.C . "First, this is an academic program," said Major. "The semester will be tightly focused on a theme that will be explored in seminar, lectures and projects. Students will be able to see the issues 'on the ground' through the field component of the semester and through living and talking with folks in the Park," he said.
"Second, the students will build a small community. Third," he explained, "they will learn much more about the many intertwined issues of community, ecology, natural resources, tourism and politics in this unusual 'forever wild' area," Major added.
Visiting Assistant Professor of English Janelle Schwartz '97, another committee member, originally proposed the idea to Dean of Faculty Patrick Reynolds. "Over the years in my interactions with Hamilton I've been struck by the success of the New York and D.C. programs and study abroad, but they were are all urban-centered," said Schwartz. " I felt Hamilton needed a balance and complement to those and thought of the Adirondack Park that's so close to us."
Hamilton offers the popular pre-orientation Adirondack Adventure program and short day trips to the Adirondacks through various courses, but as Schwartz noted "there was no immersive, sustaining way to take advantage of the Adirondacks through a rigorous curriculum."
Like the New York and D.C. programs, the Program in the Adirondacks will have an alternating Hamilton faculty member who serves as program director. As proposed, the Program in the Adirondacks will include an intensive seminar, taught by the program director and designed to be directly relevant to many of the Adirondack Park's resources. An interdisciplinary common experience seminar will be taught jointly by several faculty members and will also feature guest speakers from the Park. The program will also include a field component that allows for practical applications of the theories taught, and an independent capstone project. Students will also have leadership opportunities, such as working with local organizations or businesses in the Adirondacks.
Major concluded," Through offerings such as the Adirondack Adventure program and the Adirondack course, Hamilton has started to build more connections. This program continues this development through a sustained academic connection," he said, and "it will also offer a valuable rural off-campus study option that will serve as an alternate to the mostly-metropolitan off-campus options."
Schwartz added, "We need to take advantage of the Adirondacks in our backyard. This will highlight where we are."
Other Adirondack Program committee members are Professor of Government and Director of Environmental Studies Peter Cannavo, Professor of Philosophy Marianne Janack, Professor of English and Creative Writing Onno Oerlemans, Professor of Chemistry Tim Elgren and Director of Outdoor Leadership Andrew Jillings.