Outing Club Members Conquer Two Adirondack Peaks
---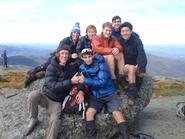 Seven Hamilton students—trip leaders Pat Dunn '12 and Leonard Teng '12 along with Makenna Perry '12, Leslie Cohen '12, Lucas Harris '12, Marco Scheuer '13 and Max Lopez '15—were part of a Hamilton Outing Club (HOC) backpacking trip last weekend that tackled two of the Adirondack High Peaks: Algonquin Peak, the second highest mountain in the state at 5,115 feet, and Iroquois Peak, the eighth highest at 4,843 feet.
Trip diary:
Friday, September 16: With several trip members having class until 4 p.m. and all of the group gear still needing to be packed, we were unable to leave campus until 5:30, which gave us a start time of about 10 p.m. at the Adirondack Mountain Club's Adirondack Loj in Lake Placid. We planned for our Friday night campsite to be at Marcy Dam, a reservoir located approximately two miles from the Loj. A relatively easy hour-long hike by headlamp brought us to the Dam, where, as all three lean-tos were occupied, we set up our tents and settled down for the night.
Saturday, September 17: We woke at 6 a.m. to a cool morning and a breakfast of fruit and granola bars. The massive rainfall of the preceding weeks had done substantial damage in parts of the High Peaks, and being unsure of the conditions (general muddiness being the main concern) of the trails on our path, it was important for us to get an early start.
We were able to leave camp by 7 a.m., and hiked southwest from the Dam, through scenic Avalanche Pass to Lake Colden, where our trail cut to the north to ascend for about 1.5 miles to a T-intersection straddling a saddle between our two peaks. The trail was in much better condition than we had expected, and we were able to hit the summit of Iroquois by noon. By 1 p.m. we were atop Algonquin, which, with its bald summit on a clear day, affords incredible views of the rest of the High Peaks and the entire Adirondack wilderness.
We spent an hour appreciating the summit with several dozen other hikers (Algonquin is one of the most popular day-hikes in the High Peaks) and began our hike down the west shoulder of Algonquin, where we eventually connected with the Whale's Tail ski trail, a shortcut back to the Dam which allowed us to pack our gear from the night before and hike the two miles back to the Loj.
All gear for the trip was furnished by the Hamilton Outing Club, and food was provided by Bon Appétit. HOC has many exciting trips planned for the upcoming semester, and the annual 46 Peaks Weekend, a quest to have all 46 High Peaks summitted by a current student or faculty member in one weekend, is set for Sept. 30-October 2.