Outing Club Seeks to Expand its Reach
---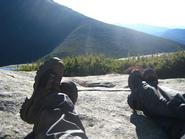 The Hamilton Outing Club (HOC) is on a mission to expand its reach on campus. HOC is upping its social presence, especially during Open Hours, which occur on Monday and Thursday nights. "This year, we're trying to get more people in here, rather than just renting gear, ...to build an Outing Club community," said HOC communications coordinator Helen Higgins '13.

To this end, Open Hours will often feature scheduled activities in addition to low-key, hot cocoa and hanging out nights. At the 46 Peaks sign-up party last week, aside from signing students up for backpacking trips, officers organized games like human bowling (pushing a helmeted student on a scooter through a pile of bear-safe canisters) and bobbing for meat sticks (this is exactly what it sounds like, except meat doesn't float like apples do).
The event packed the Glen House, and filled up spots on 46 Peaks trips completely within half an hour – something that has never happened before.
HOC also partnered with the Campus Activities Board (CAB) to present a special screening of the new blockbuster, "The Hunger Games" on the lawn behind the Glen House during Open Hours on Sept. 25. CAB brought its popcorn machine and offered bags of freshly popped corn to arriving students. HOC spread out tarps, and students brought their own blankets, sleeping bags, and even towels to bundle up against the cold (temperatures were in the 40s). If you could look away from the movie action for a moment, the sky was perfectly clear and starry.

The push this year to revamp several areas of HOC, especially student use of Open Hours, has been a special focus of the senior officers. "This is our last year – we have to make everything we always wanted to happen for HOC, happen," said Higgins. She estimates all eight of the officers are spending at least six hours a week each on Outing Club business, and nearly double that during heavy weeks, such as this one, gearing up for 46 Peaks weekend. That's about the same time commitment as a course.

Already this year, HOC has created a more accessible and open presence on campus, and is offering more programming than ever. Every Sunday now, Higgens sends out a newsletter to the HOC community, detailing events and plans for the week. So far, participation in regular HOC events, such as 46 Peaks weekend and leader training, has jumped to unprecedented highs. Higgins loves the changes, and the burst of student involvement: "It's exciting to see."