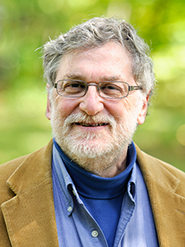 Peter J. Rabinowitz, the Carolyn C. and David M. Ellis '38 Distinguished Teaching Professor of Comparative Literature, published "Toward a Narratology of Cognitive Flavor" in the Oxford Handbook of Cognitive Literary Studies, edited by Lisa Zunshine.
The article continues Rabinowitz's recent work on what he calls "narratology of the moment"—study of the ways in which particular moments, even viewed outside their position in a narrative sequence, can provide intense pleasure.
Working against the grain of traditional narrative theory, and relying on the unlikely combination of Chandler's Long Goodbye and Proust's In Search of Lost Time as primary examples, Rabinowitz explores the momentary pleasures that come from the ways that novels can play with their characters' cognitive interactions.
Coining the term "cognitive flavor" to refer to the special qualities of particular cognitive configurations, the essay goes on to suggest that, to the extent that we do read for sequence, there may be types of sequence, tied to the varying flavors of those favorite spots, that have gone unrecognized. According to Rabinowitz, "attention to such alternate sequences, which are often in contestatory counterpoint to the structures we usually see, may well unsettle traditional interpretations."