P.P.O.W. Exhibits Kuharic's New Work
---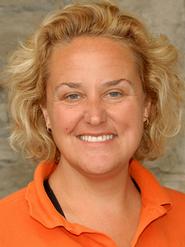 P•P•O•W will present new work by Katharine Kuharic, the Kevin W. Kennedy Associate Professor of Art, in an exhibition opening at its new space on West 22nd Street in New York City on Jan. 27. The following day, Jan. 28, the Philip Slein Gallery will show more of Kuharic's work in its St. Louis, Mo., space.
P.P.O.W. has represented Kuharic since 1994 and has exhibited her work in seven solo shows. This inaugural exhibition in the gallery's new space will include five multi-paneled pieces created by Kuharic. These works offer a preview of her solo exhibition scheduled for October of this year.
The show at the Philip Slein Gallery, titled "Paris Dream," will include four collaborative drawings by Kuharic and Jamie Adams and Tony Fisher.
Kuharic will also be exhibiting work in May in Chicago at the Zolla-Lieberman Gallery and will have a solo show at P.P.O.W. opening on Oct. 14.