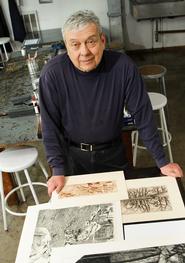 An exhibition featuring oil paintings by several members of the Hamilton community will be on display Jan. 31 – March 7 at Utica College's Edith Langley Barrett Art Gallery. An opening reception for "Imaging Place: […considering the relationship of architecture/place/space]" will be Jan. 31 from 4-6 p.m.
The exhibition features Professor of Art Bruce Muirhead's "Jonas Perkins School" (1985) and "Circus Scene" by Kenneth Kahn '63. Also included are "Architecture, Utica" (1949) by James Penney, professor of art from 1948-76, and "Church with Twin Towers" (1968) by Paul Parker, who taught art at Hamilton from 1948-70.
The theme of the exhibition is the architecture of places that distinguishes each place from others and becomes a form of human culture and expression. The works on display are all part of the Utica College Art Collection.