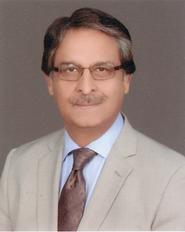 Due to unforeseen circumstances, Ambassador Jalil Abbas Jilani, Pakistan's ambassador to the United States, has had to cancel his appearance at Hamilton College on Wednesday, April 29. The 8 p.m. lecture will not take place.
Pakistan's Ambassador to the United States Jalil Abbas Jilani will speak on Pakistan-U.S. relations on Wednesday, April 29, at 8 p.m., in the Chapel. His talk, titled "Countering Violent Extremism: Pakistan's Challenges," will focus on Pakistan's internal threats as well as those emanating from the region and beyond. The lecture is free and open to the public and is sponsored by the Government Department.
Jilani assumed his responsibilities as ambassador to the United States on January 2, 2014. Prior to that appointment he served as foreign secretary of Pakistan from March 2012 to December 2013.
He is a career diplomat and has also served as Ambassador to Belgium, Luxembourg and the European Union (2009-2012) and as Pakistan's high commissioner to Canberra, Australia (2007-2009).
Jilani holds a bachelor's degree in law and M.Sc. in defense and strategic studies. In his professional life, he has specialized in South Asian affairs and remained director India (1992-1995), deputy high commissioner/acting high commissioner to New Delhi (1999-2003) and director general South Asia and SAARC (2003-2007). In 2005 he also served as the government's spokesman on foreign affairs.
From 1989 to 1992, Ambassador Jilani served as deputy secretary in the Prime Minister's Secretariat.
His other overseas assignments included; Jeddah (1983-1985), London (1985-1988) and Washington (1995-1999).