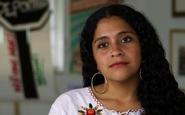 "Organizing for Justice: A Panel Conversation Exploring Immigrant Women's Labor" will take place on Monday, Sept. 15, at 4:10 p.m., in the Red Pit, Kirner-Johnson Building. The discussion is free and open to the public.
Community organizers Lis-Marie Alvarado (WeCount!) and Yadira Sanchez (Workers Justice Project) will explore the numerous challenges facing women workers today in the context of immigration reform. The discussion will be moderated by Associate Professor of Women's Studies Anne Lacsamana.
The discussion is sponsored by the Women's Studies Department and co-sponsored by the Days-Massolo Center.