Panel Discussion on Spirituality Engages Students
---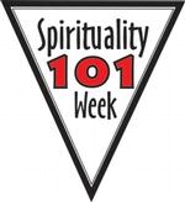 To launch Spirituality Week at Hamilton, a panel of faculty and campus religious leaders gathered in KJ's Red Pit for a discussion about spirituality on the hill and the many ways to express it: Spiritual but Not Religious.
The panel members represented a diverse range of religious backgrounds, including Walcott-Bartlett Professor of Religion Jay Williams '54; Anat Guez, Jewish chaplain and lecturer in critical languages; Protestant Chaplain Jeff McArn; Roman Catholic Chaplain Fr. John Croghan; Arabic Lecturer Mireille Koukjian; and Adjunct Chaplain for Multicultural Communities Roxanne Campbell. The mixture of religions and spiritual opinion in the room served to enrich the conversation and involve the audience.
The event began with a viewing of Craig Mengel's '75 short film Means: Religious Life at Hamilton and Kirkland Colleges in the early 1970s. The film was narrated by a varied group of Hamilton students, aimed at representing spirituality on campus in a broad and open-minded manner. Among the scenes featured in the film were traditional religious services, Buddhist chanting, and even running. After the film, examples such as these brought up the question, what exactly is spirituality?
Anat Guez was first to answer the question, revealing her first experience with spirituality, in which she realized that god is easily accessible and could be spoken to directly and honestly in simple dialogue. According to Guez, she found a "sacred space inside [herself]" where she could connect to a higher being.
Chaplain Campbell continued the conversation with a list of dictionary definitions of the word spirituality. Eliza Moore, a yoga teacher in the audience, suggested that in yoga spirituality refers to a feeling of elevation while remaining grounded. The definitions were so varied that the panel ultimately decided that spirituality is unique to the person who experiences it, so it can be accessed in any number of ways. Ultimately, spirituality is a connection to a higher order or to inner balance, regardless of how that level is reached.
Regardless of the definition one uses, spirituality can change individuals and their environment. It can inspire its pursuers to both attain inner peace and try to influence the world for the better. In application to religion, however, spirituality becomes more complex. Many people are critical of religion, particularly Catholicism, for its emphasis on ritual that some followers find to be empty and insignificant. Can spirituality exist without the spontaneity that sparked Guez's interest in god? Fr. Croghan challenged the audience to think of Catholicism from a different perspective, as a celebration of god's wonder rather than a practice involving excessive ceremony. He expressed his concerns about the word "versus" between spirituality and religion, stating that one did not have to give up one to have the other.
Finally, the panel focused on the role of suffering in spirituality. According to Campbell, "suffering creates us," shaping those who experience it into stronger people. Guez added that according to Jewish thought, things tend to work out for the better, and people are better off when they think of suffering as an unpaved section of one's path. In closing, Campbell referred to the analogy of the pearl, which requires grains of agitating sand to reach its final, treasured state. Such is spirituality: though it is a difficult journey, the results are always worth the struggle and will forever serve to enrich humanity.