Panel Explains Hydrofracking in New York State
---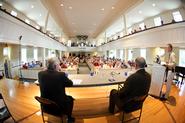 When it comes to hydraulic fracturing, or "hydrofracking," New York State has taken a "think first, drill later" approach. To engage the Hamilton community in the thinking and learning phase of this process, two panelists explained the basics of hydrofracking in New York at a discussion sponsored by the Levitt Public Affairs Center on Sept. 23.
Bruce Selleck, the Harold Orville Whitnall Professor of Geology at Colgate University, gave a presentation titled "Marcellus and Utica Shale as Natural Gas Reservoirs." He explained the purpose and process of hydrofracking. Stuart Gruskin, former executive deputy commissioner of the NY Department of Environmental Conservation (DEC), discussed state regulation of hydrofracking in his presentation. Both panelists then answered questions from the audience.
"No matter what you believe," Selleck said, "current policy dictates that this country is going to still be as dependent or even more dependent on fossil fuels in the next 25 years as it is today." With this in mind, he described the value of the shale containing natural gas in NY state. Replacing coal with natural gas could greatly reduce carbon dioxide and acid gas emissions. In New York, rocks containing natural gas are piled "like a stack of books tilted up against the Adirondacks."
Two major rock formations, the Marcellus Shale and the Utica Shale, exist in New York. While the amount of natural gas in the portion of the Utica Shale located in the U.S. has not been calculated, 60 trillion cubic feet of reserves have been found in Quebec alone. The Marcellus Shale is estimated to hold anywhere from 84 to 500 TCF. Selleck noted, "By the way, the U.S. burns about 25 TCF a year, so the Marcellus at the high end could have 20 years of U.S. consumption."
To obtain this gas, fractures are created in a formation and pumped with a fluid consisting mainly of water and sand. This fluid pressures oil or natural gas to the surface for collection. Selleck reported that one of the greatest issues presented by hydrofracking is well cementation and completion, which must be appropriately done to prevent dangerous leaks. Fortunately, he said, "New York has a very good reputation for well cementation."
Gruskin began his presentation by praising New York's "think first, drill later" approach. "This is really the only place in the U.S. where we can be having this conversation where drilling is not going on while we are having the conversation," he said. Gruskin also urged New Yorkers not to worry about federal policy decisions that allow hydrofracking to occur without proper safety precautions. These federal exemptions for hydrofracking are immaterial in New York.
To obtain a permit for an activity judged to have a significant environmental impact, an Environmental Impact Statement (EIS) must be drafted. This ensures the activity complies with state regulations. Certain activities, including oil and gas drilling, have a General EIS to speed up the process of obtaining a permit. A supplement to this General EIS would be required for hydrofracking. This month, the DEC released a revised draft of this supplement, taking more than 14,000 comments from New Yorkers into account. This revised draft is now out for commentary again. This, Gruskin said, is a transparent public process that has gone exactly the way it is meant to go.
The controversy has still taken the public debate to a level Gruskin feels has gotten out of hand. "This has become a philosophical issue as opposed to a scientific discussion," he says. He laments the public's lack of faith in the government, particularly the DEC, and urges state residents to have confidence in their officials. The potential environmental effects of hydrofracking are serious, Gruskin said, but America's energy problem is serious as well. Additionally, some of the areas of New York most needing an economic boost are right where the shale is. Gruskin sees an opportunity to reap the benefits of hydrofracking with enough oversight to keep its drawbacks minimal.
Oneida County legislator Chad Davis, D-18, asked the two panelists whether significant cuts in the DEC budget would make this oversight impossible. He noted that the DEC funding was recently cut by 20 percent. "The DEC has been decimated due to the state economic crisis," Gruskin confirmed. He estimates a need for 226 new workers. Even if the necessary funding is slow to accrue, said Gruskin, that simply means permits for hydrofracking will be slow to go out. "The DEC does not rubber-stamp permits," he says.
Two audience members questioned New York State's ability to dispose of hydrofracking waste properly, especially flowback water. The panelists admitted that disposal systems for flowback water are not yet available on a large scale, and that waste disposal is currently the biggest problem to solve for hydrofracking. Unlike other states, Gruskin assured the audience, hydrofracking will not commence regardless of the lack of disposal facilities. "Permits are not going to be issued without the DEC knowing what's going to happen to the waste," he declared.

Both panelists expressed disapproval of the divisive tone the public debate has taken. "Sometimes I have been accused of being a rabid environmentalist, other times I have been accused of being a shill for the gas companies," said Selleck. He considers himself to be neither. Exaggeration on both sides of the debate has made true education on hydrofracking difficult to obtain.
For an expanded version of the facts Selleck and Gruskin provided in their presentations, both panelists suggested that audience members take a look at the DEC's Supplemental Generic EIS, "Well Permit Issuance for Horizontal Drilling and High-Volume Hydraulic Fracturing to Develop the Marcellus Shale and Other Low-Permeability Gas Reservoirs." The document, at 1,537 pages, may not be fully intelligible to all readers, but Selleck and Gruskin recommended giving it a glance.