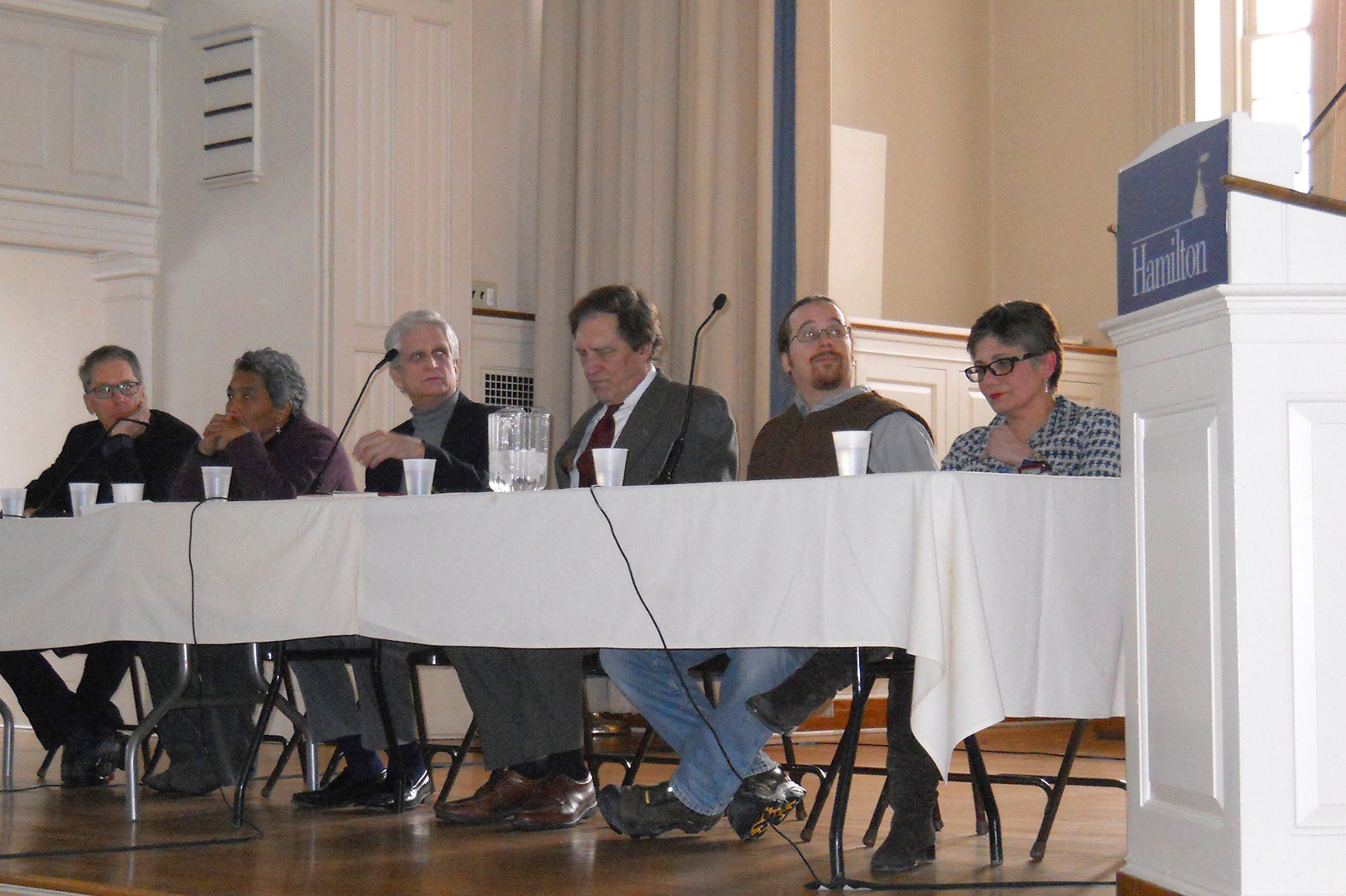 With extensive media coverage of gruesome acts committed by ISIS, Al-Qaeda, Hezbollah, Jihadists, the Taliban and the Boko Haram, to name a few, many Americans wonder why Islam lends itself so readily to violent extremism. The same question has been recently raised on-campus by the Enquiry, a weekly opinion editorial sponsored by the Alexander Hamilton Institute, prompting the Muslim Students Association (MSA) and the Arabic and Middle East Club (AMEC) to invite a panel of experts to campus in an effort to deepen the community's understanding of the connection, or lack thereof, between Islam and extremism.
The panel included two former ambassadors and four professors: Karl F. Inderfurth, assistant secretary of state for South Asian Affairs; Edward S. Walker '62, former U.S. ambassador to Israel, Egypt and the United Arab Emirates; Alan W. Cafruny, the Henry Platt Bristol Professor of International Affairs at Hamilton; Aaron Spevack, assistant professor of religion at Colgate University; Margo Okazawa-Rey, Hamilton's Elihu Root Peace Fund Visiting Professor of Women's Studies; and Mireille Koukjian, visiting instructor in Arabic and Middle East Studies. Areej Haroon '17 and Hady Hewidy '17, presidents of the MSA and AMEC respectively, posed questions and moderated the discussion.
The event began with an observed silence for the three Muslims murdered in North Carolina earlier this week. As Cafruny pointed out, one of the victims was studying to be a dentist and had plans to give free dental work to refugees in Syria this upcoming summer -- an act that doesn't align itself with the exaggerated media portrayal of Muslims as ruthless, sadistic terrorists. This echoed Koukjian's comment about the rising tendency "to associate violent extremism with all Muslims," largely due to the "media's use [of] decontextualized images to conclude that Muslim society is inherently violent."
This notion that all Muslims are 'inherently' or 'intrinsically' violent, militant, or hateful was quickly debunked by all six panelists. Spevack said that "the Islamaphobic rhetoric of politicians and religious leaders" had perpetuated these falsities; in reality, "we can find very similar events all over the world, committed by different nations, religions, and ethnicities with the same gruesome and shocking impact."
Walker continued with this line of thought, "are Americans inherently murderers? We have 10,000 homicides a year. Are Europeans inherently war-like? They've had two wars on their soil in the past century. Are Africans inherently genocidal? Look at Darfur, Rwanda, and the Democratic Republic of the Congo. So no, none of these groups are inherently anything, they are just people and people do terrible things regardless of their race or creed."
Inderfurth agreed: "Terrorism today is much different than it was at the time of 9/11. This isn't a religious thing, it's something else. ISIS doesn't burn people for religion, they do it so we'll be appalled. They want the world to listen when they say, 'We're here, we're unhappy, and we aren't getting our fair share.'" Koukjian added, "There was outrage when ISIS burned that pilot, but they burned three Iraqis days later and there was practically no coverage" because Iraq and its citizens have been consistently framed as "the Other."
Cafruny drew attention to the not-so-innocent US military, who, in 2003, "launched a barbaric and unprovoked, illegal attack on Iraq that was subsequently covered up with lies and propaganda." The strategy, which is known as Shock and Awe, includes continuous bombing, extensive civilian casualties and widespread psychological torment of the population. "This is not an abstraction," Cafruny added, "it's a reality."
Each panelist stressed how important context is in understanding the situation in the Middle East. "Where are we going to begin our story?" Okazawa-Rey posed to the audience. "Why is state violence viewed so differently than non-state violence? The idea that the Middle East tends to lean toward extremism is simply not true, in fact it's prejudiced and racist. If you were a Muslim living in Jerusalem at the time of the Crusades, you would probably be asking these same questions about whites or Christians."
Walker emphasized context by saying, "In the 12 years between 9/11 and 2013, the Global Terrorism Database only recorded 43 deaths by terrorism on US soil." Cafruny added, "hundreds of thousands, if not millions, of Muslims have been slain in the past 30 years in the Middle East."
Okazawa-Rey, who worked as a volunteer with the Women's Centre for Legal Aid and Counseling in Palestine, also spoke against the notion that Islam is oppressive to females. "The Quran actually speaks about women in a much more egalitarian way than Christian or Jewish texts," she said. "[Extremist] practices aren't in the Islamic teachings, but in the fundamentalist occupation," which has only gotten worse in the past decade, "nevertheless, there is a vibrant women's right movement in Palestine and the Arab world," she pointed out.
The conversation then turned to the political motivation to continue framing Islam as the enemy. Walker commented, "It's easier [for the media] to tell violent stories and get emotional reactions than to try to explain to the television audience what the factors behind it are." Exaggeration and fear-mongering are an easy way for politicians to garner votes, Inderfurth added. Not to mention, "War is profitable," as Okazawa-Rey reminded the audience.
American media likes to "present everything as a dichotomy" but "we have to disillusion ourselves from stereotypes and try to see what other cultures and peoples are [actually] like," Okazawa-Rey continued. "The subordinated people know much more about the dominant people than the other way around. We need to stop accepting and start questioning," she concluded.