Panel to Discuss Diversity in the U.S. Military
---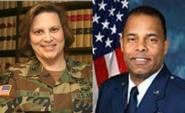 U.S. Army Col. Maritza Ryan and U.S. Air Force Col. James M. Durant III will be members of a panel discussing "The Evolution of Diversity: Race and Gender in the U.S. Military" on Monday, Sept. 26, at 4 p.m. in the Days-Massolo Center. They will be joined by Maynard-Knox Professor of Government Frank Anechiarico '71 and Professor of Mathematics Debra Boutin. Sponsored by the Chief Diversity Officer and the Office of the President, the event is free and open to the public.

Col. Maritza Sáenz Ryan graduated from West Point in 1982, a member of only the third class to include female cadets. After graduating from Vanderbilt University Law School, she deployed in Operation Desert Shield/Desert Storm as brigade legal counsel for a field artillery brigade. After returning from the Middle East, Ryan was selected to be deputy head in the department of law at the U.S. Military Academy at West Point. In 2006, she became the professor and head of the department of law, a position requiring presidential nomination and congressional confirmation. With this she became the first woman and first Hispanic West Point graduate to serve as an academic department head in the Academy's 210-year history.

Col. James M. Durant II is a 1987 Air Force ROTC Distinguished Graduate who received both his bachelor's degree and J.D. from Howard University in Washington, D.C. He currently serves as director of legal services for the Third Air Force at Royal Air Force Mildenhall, U.K. Prior to his current position, Durant was an assistant professor, legal director and deputy department head at the U.S. Air Force Academy. Col. Durant has deployed twice in support of Operation Enduring Freedom and Northern Watch as a NATO Legal Advisor. In 2009, while serving at the U.S. State Department, he authored the legal authority for the United States to begin negotiation with Russia for the new Strategic Arms Limitations Treaty.