Paul Reichert '90 Publishes Children's Book
---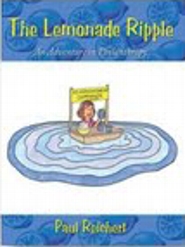 A new version of Paul Reichert '90's children's book The Lemonade Ripple was recently published and released by Sky Pony Press.
Reichert originally self-published this book two years ago. "It aims to introduce kids to the concept of philanthropy and engage them in their communities" says Reichert.
The book has been used at various schools in order to motivate students to get involved with community service. For example, after teachers and parents at Carderock Springs Elementary School in Bethesda, MD, read The Lemonade Ripple to each kindergarten through fifth-grade class as part of a school-wide community service project, each student was encouraged to do their own charitable project. They collectively raised almost $2,000, which they voted to donate to a charity helping families of kids with cancer.
Reichert works as a lawyer in Washington, DC, however he still works as a cartoonist and illustrator in his free time. He has published several editorial cartoons, and The Lemonade Ripple is his first children's book. Reichert is donating all author proceeds from the sale of the book to charity.
At Hamilton Reichert majored in Government.