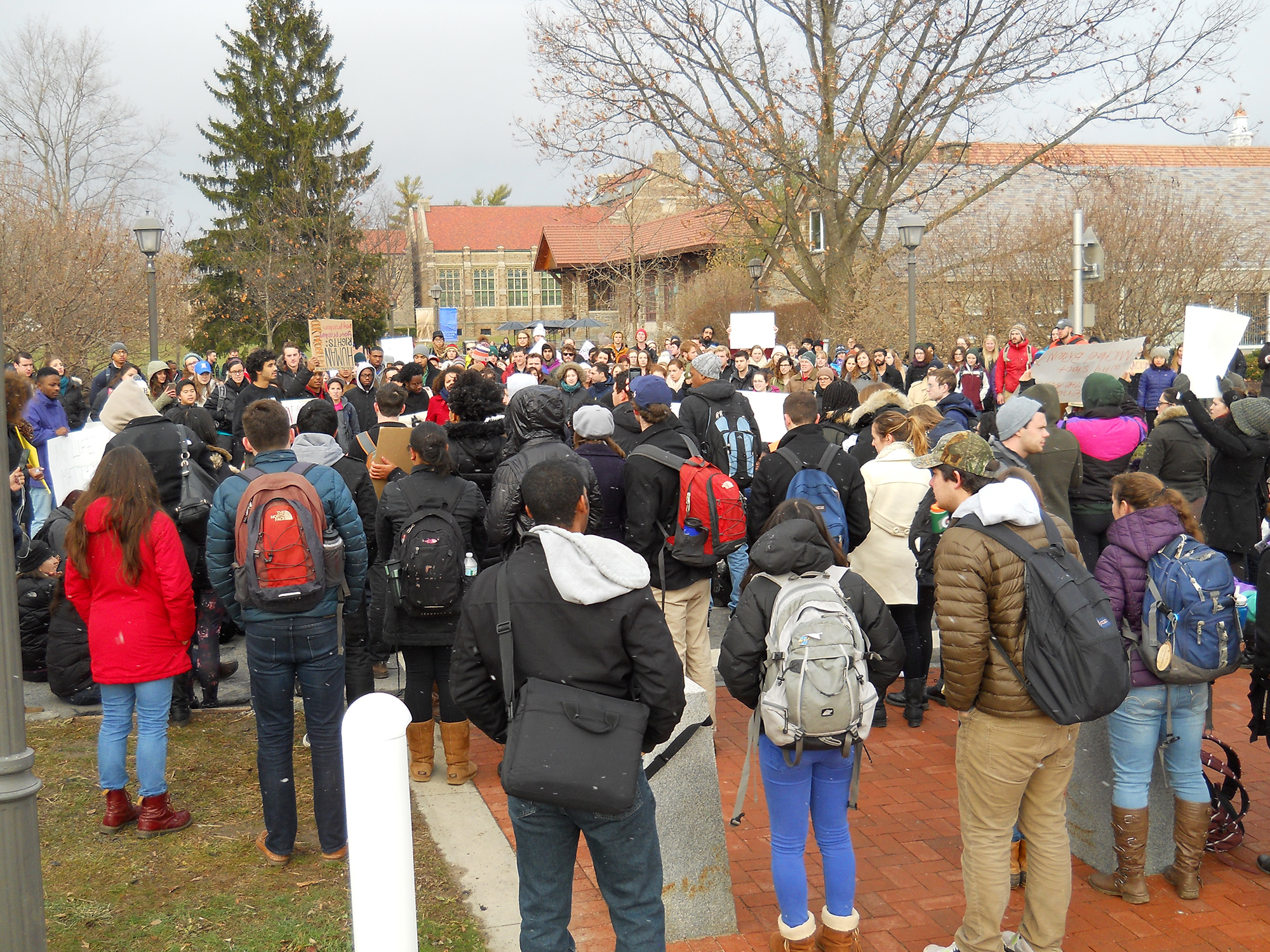 Returning from Thanksgiving break, students typically buckle down for the blitz of papers, projects and tests due before finals week. The onslaught of work, combined with chilly weather, left the campus feeling less populated than usual. Yesterday was no exception until 2 p.m. when students began to convene near the college's central map.
They gathered for an event publicized on social media as a "Student Walk Out and Die-In," a reflection of national concern over recent decisions related to police actions against persons of color, specifically the grand jury's decision not to indict Officer Darren Wilson for the shooting of 18-year-old Michael Brown as well as a similar decision related to the death of Eric Garner in New York City. Hamilton's event was inspired by similar demonstrations occurring on college campuses, in public parks and in urban neighborhoods nationwide. Some 150 protesters covered the school's crosswalk, map and main pathway, Martin's Way, while others traced "fallen" bodies with chalk or stood holding signs. Silence was observed throughout the four-and-a-half-minute Die-In.
The group moved onto College Hill Road, causing traffic to stop. Francis Manfredo, director of campus safety, was on-scene discussing the situation with local officials, and eventually the law enforcement officers decided to divert traffic to allow for the peaceful demonstration.
Senior Associate Dean of Students Meredith Bonham said she was grateful for "the relationship [the college has] with local law enforcement and their decision to divert traffic around the Hill" for the duration of the event.
Amit Taneja, director of diversity and inclusion for the Days-Massolo Center (DMC), said that, "[these feelings] have been brewing in our community for a while." While it had no part in organizing the demonstration, the DMC has been hosting a series of speakers, film screenings and conversations in recognition of the 60th anniversary of the landmark Brown vs. Board of Education decision. The most recent discussion included an open dialogue on the Ferguson verdict on Dec. 1 attended by more than 200 community members.
Student organizers Jorett Joseph '15 and Naomi Tsegaye '16 said they were not surprised with the overwhelming turnout: "We were a little wary but knew that people were going to stand for something today, and this is an issue that affects our campus and every member of our community and nation," Joseph noted. Todd Franklin, the Sidney Wertimer Professor of Philosophy, commented, "I've seen a number of protests in my time on the Hill, but until this particular occasion I had never seen such dedication and resolve, and I've never been prouder of our student body."
Students and faculty, occupying the crosswalk and road without opposition, took turns sharing their thoughts and feelings through a megaphone. This forum continued for almost two hours. Faculty members led the students in a rendition of "We Shall Overcome," after which, the Black and Latino Student Union began the crowd on "Lift Every Voice and Sing," a song that is often recognized as "The African-American National Anthem." The demonstration continued onto the Kirkland bridge to the atrium in the Kirner-Johnson building and then across campus to the science center and library.
While the demonstration left many feeling good about making their voices heard, many expressed ongoing concern about the unequal treatment of marginalized communities.
Local television station WKTV and local radio station WIBX featured stories about the demonstration, among several other outlets.