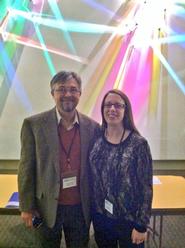 Professor of Music Samuel Pellman presented his composition of digital music "Selected Galaxies: Peculiar" on March 22 at the Society of Composers, Inc. (SCI) National Conference at Ball State University in Muncie, Ind. The performance included a video created by Ben Salzman '14 as part of an Emerson Project collaboration with Pellman.
In Muncie, Pellman met with his former student Anne Neikirk '05. Neikirk, who recently received her doctorate in musical composition from the Boyer College of Music and Dance at Temple University, also had a piece performed at the conference.
A portion of a light painting by Stephen Knapp '69, P'99 is shown in the background of the photo. "First Symphony" was commissioned by Ball State University for installation in the foyer of its recently constructed Sursa Performance Hall. Another of Knapp's light paintings, "Chasing Red," is on display in Hamilton's Schambach Center.