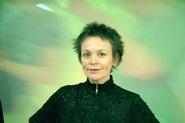 Hamilton College Performing Arts concludes the 2014-15 Performing Arts Series with Laurie Anderson presenting The Language of the Future on Saturday, April 11, at 7:30 p.m., in Wellin Hall, Schambach Center.
Laurie Anderson is one of America's most renowned creative pioneers. She is best known for her multimedia presentations and innovative use of technology. As writer, director, visual artist and vocalist she has created groundbreaking works that span the worlds of art, theater and experimental music.
The Language of the Future is a collection of songs and stories about contemporary culture. It is the latest chapter in Laurie Anderson's ongoing exploration of the American narrative and how we tell it. Anderson's work crosses borders between dreams, reality and the elusive world of information. Known for her multimedia presentations and innovative use of technology, Anderson spins offbeat adventure stories with her characteristic wit and poignancy.
Her recording career, launched by O Superman in 1981, includes the soundtrack to her feature film Home of the Brave and Life on a String (2001). Anderson's live shows range from simple spoken word to elaborate multi-media stage performances such as Songs and Stories for Moby Dick (1999). Anderson has published seven books and her visual work has been presented in major museums around the world.
Anderson's appearance is part of the continuing opening celebration of the College's Kennedy Center for Theatre and the Studio Arts.
Tickets are $20 for adults, $15 for senior citizens, and $5 for students. All seating is general admission. For more information, call the box office at (315) 859-4331 or visit www.hamiltonpa.org.