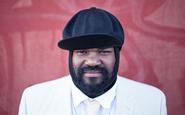 Hamilton College Performing Arts presents jazz vocalist Gregory Porter on Saturday, Feb. 21, at 7:30 p.m., in Wellin Hall, Schambach Center. Porter will perform fan favorites, including selections from his Grammy Award-winning album "Liquid Spirit."
NPR calls Porter, "the next great male jazz singer"; Soul Tracks states, "Porter fuses jazz and soul better than anybody working these days; and the New York Times hails him as "a powerful baritone who writes his own songs…from a more '70s or early '80s-oriented place in the African-American jazz tradition, strong and sometimes experimental yet serenely unacademic, and mightily good."
Porter has recorded with likes of Van Morrison, Wynton Marsalis, Dianne Reeves, Nicola Conte, Christian McBride, Kenny Barron, Buster Williams and David Murray; and this past December teamed up with Renee Fleming for her first Christmas TV special.
Gregory Porter grew up in Bakersfield, Calif. as one of eight children raised by a single mother who was also a storefront minister. His mother's Nat King Cole records inspired him to learn to sing like Cole, but his early aspirations were in sports. Porter was awarded a football scholarship to attend San Diego State University, but after a shoulder injury derailed his sports career, began performing in local jazz clubs. Here he met his mentor, saxophonist, composer and pianist Kamau Kenyatta. Kenyatta introduced Porter to flutist Hubert Laws, who featured Porter's vocals on a track on his 1998 album "Hubert Laws Remembers the Unforgettable Nat King Cole." Laws' sister Eloise heard Porter during the studio sessions and helped him get cast an original cast member of the four-time Tony nominated Broadway musical, "It Ain't Nothin' but the Blues."
Ticket for this event at $20 for adults, $15 for senior citizens and Hamilton employees and $5 for students. All seating is general admission. For more information or tickets call the box office at 859-4331 or visit www.hamiltonpa.org.