Peter Maher '13 Research Leads to New Strategy for Rome Police
---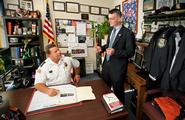 Whether it's through a varsity sport, a cultural diversity club or a service organization, Hamilton students devote both time and energy throughout the year to getting involved in their community. Peter Maher '13 is no exception and has a unique story to tell. Over the past two years, he has spent more than 30 hours a week interning with the police department in the nearby city of Rome, N.Y.
This extensive commitment has heavily influenced Maher's academic work at Hamilton and he's now in the process of completing his senior thesis on a new strategy being pursued by the Rome Police Department -- a strategy based upon Maher's own studies and recommendations.

Maher's interest in incorporating police work into his Hamilton career began long before his thesis. During his sophomore year, Maher contacted Hamilton Government Professor Frank Anechiarico and planned out an independent study project centered on Maher's recently acquired internship with the Rome Police Department, where Hamilton alumnus Kevin Simons '88 is deputy police chief. This project was to study the effect of urban decline on crime and law enforcement, a topic relevant and timely for the city of Rome. Specifically, Maher wanted to find out how urban decline affected the reaction of law enforcement.

In his research, Maher came across common themes. By reaching out to other police departments across the country operating in similar circumstances to Rome, Maher noticed the often successful strategy of "community policing," the idea that law enforcement can achieve better results by being implemented in a proactive and non-aggressive way that incorporates the larger community.
In comparing this strategy to Rome's police department, he noticed that Rome's police force was instead engaging in significantly reactive enforcement strategies as opposed to addressing problems before they occurred. By connecting the crime rates in Rome to the "broken window theory," the notion that degrade of physical environments can lead to the rise of social disorder, Maher's independent study concluded that increased crime rates resulting from urban decline in Rome would best be met with a more targeted approach on the specific areas of decline.
Having compiled this information, Maher began constructing and outlining a specific plan to better focus the Rome Police Department's efforts. Knowing that the vast majority of crime in the city was committed by a small percentage of repeat offenders, Maher proposed what he called the "Community Impact Unit" or the CIU. The CIU was to consist of a small group of officers who would patrol areas of problem on foot or on bicycle.
Getting out of the squad cars would allow the officers to be more visible as a sign of social order and, equally important, would increase the rate of officers' interactions with the community. In presenting this plan, Maher convinced the Rome police department to allow a 90-day-trial period in which his plan could be implemented and tested for results. The CIU began its official operations in early September and Maher is already claiming it as a success.

Although full measurement of the CIU's impact will be hard to assess until the trial period has run its course, Maher cites an already increased rate of conversations between officers and members of the community as a precursor to positive results.
These interactions, Maher claims, do not necessarily result in more tickets and citations given, but instead builds respect for social order by allowing the police officers and the community to interact and work together to prevent crime. This maintains a safe community and does so without the intermediate stages of damage and repair that a more reactive strategy would require. Commenting on the three actors at play in crime prevention – the police, the perpetrators, and the larger community – Maher claims his strategy is a win for all three.

Commenting on Maher's work, Professor Anechiarico calls the larger project remarkable and laudable for the extent to which Maher has gone beyond his senior thesis to immerse himself in the assignment, earning the confidence of the Rome Police Department and developing an experimental design from his work on the ground. Anechiarico hopes Maher will be able to take the project beyond his senior thesis and pursue publishing options in the spring.
Looking to graduate early this December, Maher admits at first he was skeptical of his choice to attend Hamilton. Despite more than 50 areas of study, Hamilton had nothing specific to law enforcement. However, Maher now asserts that his work over the last two years would not have been possible anywhere else. Citing the accessibility of faculty, the emphasis placed on student independence and his acquired writing skills which have been invaluable over and over again, Maher directly credits attending Hamilton as instrumental in his success.