Photographer Tim Davis Focuses on Audience in Hamilton Lecture
---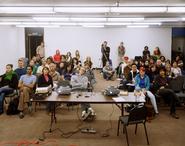 In an introduction to the Feb. 3 lecture on Tim Davis' photography, Visiting Assistant Professor of Art Kathryn Parker Almanas skipped nearly all customary information in favor of presenting the audience with eight simple facts about the artist. These included his talent for skipping faster than he can run and playing ukulele. Though such random pieces of trivia may seem irrelevant to a professional discussion about photographs, they could not have served as a better preface to Davis' character.

Prior to beginning the lecture on his life's work, Davis insisted that all audience members be seated in the middle section of the Kirner-Johnson Auditorium, where nearly all seats were quickly filled. Rather than starting his talk, he began adjusting a camera that stood on an impressively large tripod. He took three photographs of the audience, requesting that each member look as though they were sitting in an incredibly boring lecture.

His first few slides continued on the subject of why he photographs those who attend his presentations. Davis showed numerous photographs of past audiences while explaining that in this way, he gets to continue his work even when giving speeches. In this way, he never has to leave the craft that he loves.

This idea of creating images in unexpected places seems to play a large role in all of Davis' work; he frequently finds beauty, meaning, and emotion where others would ignore their surroundings and continue on their way. His photographs, each taken in a painstaking and time-consuming manner, feature discarded mattresses, reflective surfaces, parking lots, and countless other objects that may seem trivial and unworthy of attention. But Davis' art has a way of transforming this "junk" into something of significance. For example, a series of photographs featuring fluorescent corporate signs reflected in residential windows appears to be not only hauntingly symbolic but eerily beautiful. A stack of manuscripts represents a job he once held at a small literary publishing company, a job he despised until he found a way to involve photography in it.

Davis is undoubtedly detail-oriented as well, frequently seeking the perfect lighting and angle from which to capture his subjects. In his Permanent Collection, Davis combines existing paintings in museums with the glare from artificial museum lighting, using light to "obscure" rather than "illuminate" his subject. Using original and clever twists such as these compel the viewer not only to look closer, but to think about what it is that goes behind each shot.

What truly makes Davis' art engaging, however, is the passion he clearly puts behind it. The photographs' personality is one that combines sarcastic, critical commentary with hilarious, biting wit. As he puts it, he works "against the institution;" viewing his surroundings with an expansive yet sharp understanding of what it means to live in the modern world. In the collection My Life in Politics, for example, Davis uses humor, satire, and pop culture to discuss serious issues such as the lack of involvement that U.S. citizens have in politics.

To conclude his presentation, Davis screened a short film that he had created, titled Upstate New York Olympics, featuring different shots of himself performing "Olympic" activities of his own creation, including Garbage Day Knife Throwing and Berry Blowing. The film kept his audience laughing long after he muted the sound and paused for questions.

In his recent lecture, Tim Davis proved himself to be not only a talented artist, but a clever and entertaining witness to the world around him. He kept his audience interested and presented them with a unique worldview.