Photographic Memories: Winners of Worldview Photo Contest
---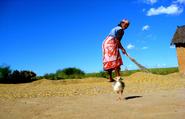 Hamilton students once again grabbed their cameras, framed, zoomed and shot their surroundings as they traveled abroad in 2008. Many entered their photographic memories in the third Worldview Photo Contest, whose winners were recently announced.
Cecilia Laseter '09 won first place with her photo from Madagascar; Joseph Dominguez '09 took second place with an image of New Zealand; Mark Fitzsimmons '09 captured the streets of Spain for third place. Honorable mention winners are Laura Halvorsen '09, who brings an unexpected image of Denmark home, and Peter Woodruff '09, who illustrates family life in Botswana.
[View winning photos]
To participate, students were required to submit a photo taken on a study abroad program or in an international student's home country. This year's contest received 19 entries of photos from Italy, Cambodia, Morocco, Mexico, England, France, Czech Republic, China, Ghana and Germany. The winning photos are also on display in the Dean of Students office.
Photos were judged by a panel from the division of Student Life and winners received gift certificates to Sangertown Square Mall.
This spring, 172 Hamilton students will study abroad in 38 countries.