Piesche Contributes to German Documentary
---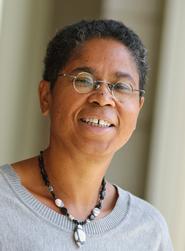 Visiting Instructor of German and Russian Studies Peggy Piesche was featured in White Charity: Blackness and whiteness on charity donation posters, a documentary about German charity aid posters. Piesche contributed research for the film by Carolin Philipp and Timo Kiesel that analyzes the posters from a postcolonial perspective.
According to Piesche, "Billboards of charitable organizations such as 'Brot für die Welt,' 'Welthungerhilfe,' 'Kindernothil' or 'Care' are omnipresent in streets, on squares, in train and metro stations in Germany. They have a large impact on how black and white identities in Germany are constructed." She said her research is an "analysis of racism in images and presents a different perspective of images in commercials, print and TV." In the film, she discusses her work on development cooperation, colonial fantasies, racism and power structures in these advertisements.
White Charity is available through Burke Library.