Piesche Interviewed by Germany's Deutsche Welle
---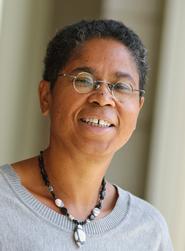 Visiting Instructor of German and Russian Studies Peggy Piesche was interviewed by Deutsche Welle Arts and Culture for an article on the ongoing nationwide debate about the use of blackface makeup on German theatre stages. After a Berlin theatre advertised its new production of I'm not Rappaport showing a white actor painted in black to play an African-American, a debate erupted focusing on questions of artistic boundaries and the state of racism in Germany.
Piesche, a media spokesperson for the black German community on this issue, has published on the tradition of blackface in German film and media. In the Deutsche Welle interview, she stressed the racial connotations of such iconic depictions and discussed the notion of systemic racism illustrated by the debate itself. "You can't just dismiss the accusation of racism by saying there were similar incidents in Stuttgart or Braunschweig and 'I don't understand why you're making this fuss now,'" she said, adding that to do so is "assuming a privilege - that is, the privilege to define what matters and when an argument counts."
Piesche was also interviewed for the German newspaper Der Tagesspiegel for the article "Schwarz auf Weiß" (Black on White. […] the long history of racism on German stages) by Hadija Haruna.