Piesche Participates in African Studies Workshop
---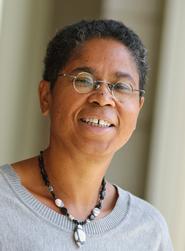 Peggy Piesche, visiting instructor of German and Russian studies, participated in the first public event of the newly founded Bayreuth Academy of Advanced African Studies.
The new international research college, part of the Bayreuth University's Centre of African Studies at Bayreuth Academy, started on Feb. 1 with a three-day workshop titled "Concepts of Future in MediaSpaces of Africa and its Diasporas."
Piesche presented and discussed her work on emerging notions of diaspora in the future. She stressed that revisited notions need to be included in general debates about the concept of 'future' from a critical epistemological point of view.
The academy's overall research theme is "Future Africa – Visions on the Move." According to Piesche, "the academy will be exploring future perspectives in Africa and the African diaspora from a variety of disciplinary approaches in a collection of several projects."