Piesche Presents Papers in Germany
---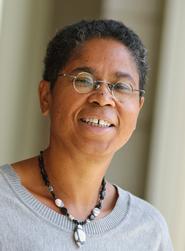 Peggy Piesche, visiting instructor of German and Russian Studies, presented two papers in Germany this summer.
The first was presented at the International Conference on African and African-Diasporic Literature June 14-16 at the University of Bayreuth. The conference, titled "Remembering Flash forward. African Literatures as Poetics in Motion," included participants from Europe, Africa and the United States.
In her keynote lecture, Piesche stressed the influence and importance of Audre Lorde's work in the Black German feminist movement. Her talk, titled "Knowledge, Notions of History and the Politics of Memory: Audre Lorde's Black Internationalism and Black Feminism in Germany," centered on Lorde's work toward a transnational Black Diaspora and the importance of the her collaborative work with Black German writers, activists and academics in the 1980s and early 1990s.
Piesche was also invited to present her work on June 16 at the Humboldt University of Berlin during the International Symposium on Critical Race Theory in Europe. The goal of the symposium was to bring leading scholars together to discuss and examine the current condition, challenges, trajectories, promises and potentials of an expanding critical race scholarship in the European context.
Piesche was part of panel that discussed "Critical Race Theory as an Intellectual and Activist Project." She argued that "the way in which the dominant perception of Intersectionality, and the notion of a German Anti-Race discourse is part of a larger ideological construction of German Exceptionalism."