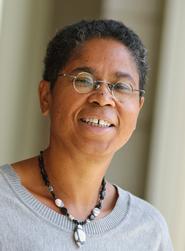 In commemoration of the 20th anniversary of Audre Lorde's death, Visiting Instructor of German & Russian Studies Peggy Piesche published a new anthology, Eurer Schweigen nützt euch nichts: Audre Lorde und die Schwarze Frauenbewegung in Deutschland (Your Silence Will Not Protect You: Audre Lorde and the Black Women's Movement in Germany). The book was launched with a discussion and reading on Nov. 21 in one of the main theaters in Berlin (Volksbühne).

Barnard Professor Tina Campt, author of Other Germans: Black Germans and the Politics of Race, Gender and Memory in the Third Reich, and Image Matters: Archive, Photography and the African Diaspora in Europe, said about the book: "This is a remarkable volume that makes a similarly profound intervention -- and will certainly have an equally significant impact -- as the pathbreaking text it honors and harkens back to, Farbe bekennen …
"While it offers an eloquent accounting of Lorde's transnational reach and her contributions to this nascent movement, it looks well beyond her instrumentality and gives a careful, critical, and long overdue assessment of the broader history of the Afro-German women's movement that plots a far more complex picture than has been offered to date.
"It introduces previously unheard voices of black German artists, activists and scholars, and effectively rewrites the history of this movement from a new and invaluable vantage point. The book is essential reading for anyone interested in understanding the uniquely intersectional politics of race, gender and sexuality in Germany, and the transnational dynamics of diasporic women's scholarship, activism and cultural production."

The anthology in German and English includes Lorde's poetry as well as interviews and essays and is contextualized with scholarly articles, essays and poetry by Piesche and other contemporary Black German scholars and artists.