Plans for South Africa: The Mandela Legacy
---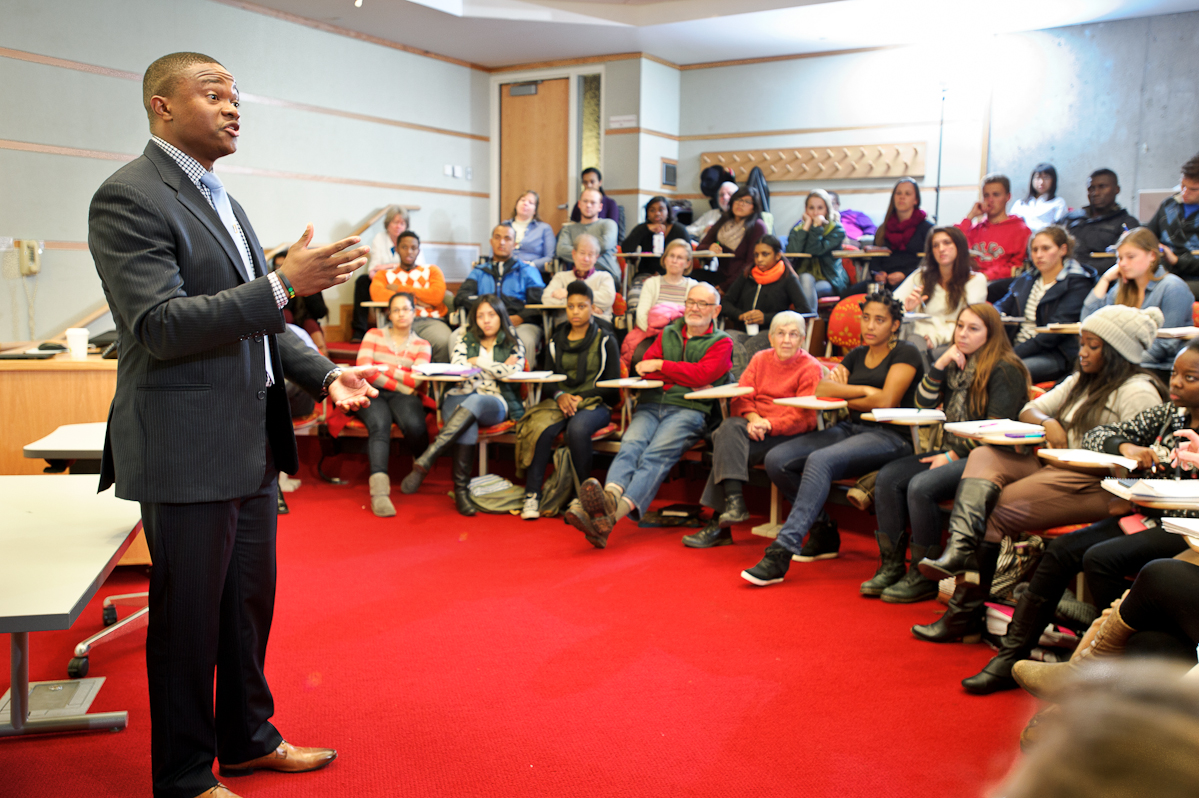 Hamilton alumnus Luvuyo Mandela '09 returned to the Hill on Oct. 29 to speak about his work as a social entrepreneur in South Africa. His former philosophy professor, A. Todd Franklin, introduced Mandela and thanked him for agreeing to speak to the small gathering, heavily composed of students in Franklin's "Philosophy of Race, Gender and Culture" course.
Born and raised in South Africa, Mandela came to the U.S. at age 17 after being awarded a basketball scholarship. He played for two years before enrolling at Hamilton in 2005, where he joined the community as a member of HEOP. Interested in a wide range of topics, Mandela became president of the Brothers Organization, had a job in the Audio-Visual Department, attempted a brief acting career and hosted a South African music radio show on WHCL called "From Where I Sit." After graduating, Mandela returned to South Africa where he began his work as a social entrepreneur.
Mandela's work focuses mostly on reforming the education system, greatly degenerated by the apartheid in South Africa. Being a young democracy, celebrating its 20th anniversary next year, South Africa is still recovering from decades of segregation and social unrest that ravaged the country between 1948 and 1994. Though the government has since implemented Broad-Based Black Economic Empowerment measures, the industry has been largely ineffective. Mandela believes that the cause of this was the hasty approach taken by the national government.
Lasting change cannot be rushed. With this in mind, Mandela has developed a new education platform known as Skew Circle. Although still in its infancy, the program plans to elevate children from their urban schools and provide them a strong education to thrive at a college like Hamilton. This creates global citizens who are capable of thinking critically, a skill Mandela attributes to his education on the Hill. In particular, Mandela praised the merits of Opportunity Programs in shaping young lives and hopes Skew Circle will have the metamorphic effect that HEOP had on him.
Mandela believes that developing Skew Circle gradually will make it a strong program, capable of inspiring and empowering other South African natives. Opportunity Programs provide role models from townships and urban areas, a crucial element for changing the current mentality toward education and eventually rebuilding the national education system. Nelson Mandela, Luvuyo's great-grandfather, Nobel Peace Prize recipient and former President of South Africa, helped the nation experience change: a path that Luvuyo hopes to follow.
As he was finishing his lecture, Mandela thanked Hamilton for teaching him powerful rhetoric and strong writing skills; however, he most appreciates learning to think critically, which has made him an excellent problem solver. The path to reform is certainly not an easy one, and long-lasting results are not instantaneous.
Nevertheless, Luvuyo, like his great-grandfather, is committed to bringing change. As a social entrepreneur, Mandela hopes to foster the development of Opportunity Programs and looks toward the future of his country with a hopeful and determined eye.