Plate Awarded Grants
---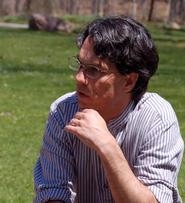 Visiting Associate Professor of Religious Studies S. Brent Plate recently received grants for two projects.
The first, a Franklin Research Grant from the American Philosophical Society, will support Plate's work in the libraries at the Smithsonian Institution. The research will become part of a chapter on drums and drumming in religious traditions for his larger book project, A History of Religion in 5 1/2 Objects, forthcoming with Beacon Press.
The second grant was given by the Central New York Humanities Corridor from an award by the Andrew W. Mellon Foundation. Plate and Jim Watts of Syracuse University are co-principal investigators on a working group titled "Remediating Sacred Scripts." The funds will provide for travel expenses for a number of scholars who will contribute to a symposium in the fall.
Scholars from Hamilton and Colgate and Syracuse Universities will hold a series of discussions during the spring and summer, culminating in a symposium hosted by Syracuse in the fall. Hamilton will be represented by Assistant Professor of Religious Studies Abhishek Amar and Professor of History Tom Wilson.