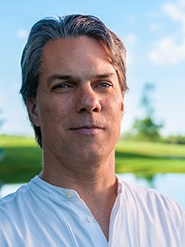 Visiting Associate Professor of Religious Studies S. Brent Plate presented several international lectures during the past two months.
In November, he gave an invited lecture at The Open University in Milton Keynes, U.K. Plate presented his work on "The Skin of Religion" during a workshop on "Material and Sensual Religion" hosted by the university's religious studies and classical studies departments. "The Skin of Religion" is Plate's ongoing project that looks at cognitive theories of perception in relation to religious and aesthetic experience.
Also in November, he made two presentations at the American Academy of Religion (AAR) national conference in Atlanta. With more than 10,000 people in attendance, the conference was among the largest gatherings of religious studies scholars in the world.
Plate's first presentation was part of a panel on "New Directions in the Study of Art and Religion: Norman Girardot's Envisioning Howard Finster and Brent Plate's A History of Religion in 5½ Objects." Five presenters responded to Plate's and Girardot's new books, noting the ways they engage new methods and approaches in the study of relations between art and religion. Plate then responded and participated in the conversation that emerged.
Plate also presented as part of a panel titled "Digitally Mapping Religion Through the Senses." He discussed his work over the years with his "Religion in the United States: Pluralism, Change, Tradition" class in which students used Google Maps to chart the religious landscape of New York's Oneida County. Plate continued by discussing the documentary film "In God's House," a three-year joint project with Assistant Professor of Art Robert Knight.
During the AAR conference, Plate also organized a panel on "The Birth of a Nation-100 Years On" and led an informal THATCamp conversation about teaching MOOCs. In the latter, he discussed his experiences teaching the Hamilton online learning platform edX course "Spirituality and Sensuality," launched last spring.
Finally, Plate presented an invited lecture titled "Moving Art: The Passion in the Image" at the University of Zurich. He examined the The Mill and the Cross, a 2011 film by Lech Majewski, seeing it in light of Pieter Bruegel's painting The Procession to Calvary, on which the film is based. The lecture was part of a semester-long interdisciplinary series at the University of Zurich's Center for Religion, Economics, and Politics.