Plate Guest Edits Journal Issue, Publishes Articles
---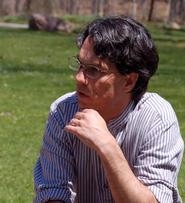 Visiting Associate Professor of Religious Studies S. Brent Plate guest-edited the June 2012 issue of the journal CrossCurrents (Wiley-Blackwell). The issue theme is "The Mediation of Meaning," and includes articles by scholars and artists working in museum studies, art and religious studies.
Plate's introduction is titled "The Mediation of Meaning, or, Re-Mediating McLuhan," rethinking some of Marshall McLuhan's ideas from the 1960s and playing them out in contemporary life. His article is "The Skin of Religion: Aesthetic Mediations of the Sacred," which examines the role of sense perception in the construction of religious experience.
Plate also recently published "Visualizing the Cosmos: Terrence Malick's Tree of Life and Other Visions of Life in the Cosmos" in the Journal of the American Academy of Religion, one of the leading journals in the field of religious studies. The article examines the imagery in Malick's award-winning film, noting its visual precedents in film, printing and science. It includes images taken from Hamilton library's special collections, such as the first edition of Charles Darwin's Origin of Species (the only image in the book was a "tree of life" chart), and the 1493 Nuremberg Chronicles.