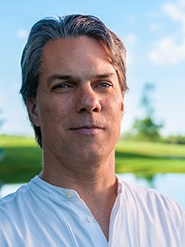 Visiting Associate Professor of Religious Studies S. Brent Plate recently participated in a working group on "Religion, Media, and the Digital Turn," sponsored by the Social Science Research Council (SSRC).

The Religion, Media, and the Digital Turn project began with a white paper assessing the impact of digital technologies on the study of religion. Plate was one of more than a dozen scholars, journalists and staff from granting agencies who convened in New York City for a follow-up conversation on the paper.
Topics discussed included how to assess digital projects in hiring, tenure, and promotion cases; how to create "public scholarship" through digital means; and ultimately, how the study of religion itself might be shifting through new media.
Plate has been working on several digital projects that connected with these interests. Among those projects are his class on media that involves students creating podcasts, his work on a documentary film with Assistant Professor of Art Rob Knight, and his online edX course "Spirituality and Sensuality: Sacred Objects in Religious Life."
Plate has also regularly contributed essays to a number of online platforms seeking to generate better public scholarship. He is currently assembling a group of scholars to create a new series of podcasts on religious life and experience in the United States.
The SSRC is an international research organization with a number of projects operating under the rubric Religion and the Public Sphere.