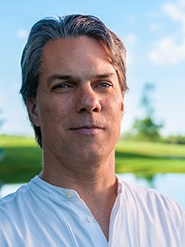 Visiting Associate Professor of Religious Studies Brent Plate participated at several venues during the American Academy of Religion (AAR) conference held Nov. 22-25 in San Diego. The meeting, held alongside the Society for Biblical Literature annual meeting, is the largest gathering of religious studies scholars in the world according to the AAR website.
During a day-long THATCamp (The Humanities And Technology) meeting held in association with the AAR, Plate presented on the use of podcasts in pedagogy and research. His case studies came from his innovative use of podcasts in his Religion and Media course. The presentation sparked conversation about how to make and use podcasting as a pedagogical tool that challenges students to think and work in creative and critical ways.
As chair of a cluster session on "Arts, Film, Media, Popular and Visual Culture," Plate organized and presided over a session on the theme of "Disney." Papers presented explored themes of death, gender, ethics and environmentalism in the films, merchandise and theme parks of The Walt Disney Co.
Plate, a former chair and current jury member for the Award in Religion and the Arts, also helped organize events for this year's award which was presented to Makoto Fujimura. An artist and writer, Fujimura was the youngest presidential appointee to the National Council on the Arts. His work has been exhibited in museums and galleries around the world.