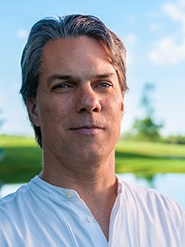 Visiting Associate Professor of Religious Studies S. Brent Plate presented several lectures based on his book, A History of Religion in 5 ½ Objects, at colleges and universities this semester.
In October, he made an audio-visual presentation to religious studies students and faculty at Wake Forest University. While there, he met with a group of religious studies majors, as well as faculty involved with The WFU Humanities Institute.
Plate presented the annual James J. Gallagher Memorial Lecture on Nov. 6 at Albright College. He also spent time in Abright's First-Year Seminar on "Senses and Religion," which uses A History of Religion in 5 ½ Objects as a course text.

He presented "Sensuality and Spirituality: Why Belief Needs Bodies and Objects" on Nov. 10 at Bennington College. His talk was part of the Social Sciences program's Fall 2014 Colloquium Series on "Belief – or, Things We Believe, and Why We Believe Them."
Finally, Plate used Skype to conduct a class session with students at Mount Allison University in New Brunswick. His book is used in a class on Chinese religions and material culture as a way to think about the topic. Students engaged Plate for an hour-long session of questions and comments about their own research projects.