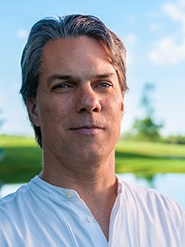 Visiting Associate Professor of Religious Studies S. Brent Plate recently published several chapters and articles, and co-edited a special journal issue.
Plate's chapter "Modern and Contemporary Art" was published in the three-volume Oxford Encyclopedia of the Bible and Arts. The chapter offers an overview of modern and contemporary western art that utilizes biblical themes, from the Post-Impressionists and German Expressionists up through contemporary work by Chris Ofili, Anselm Kiefer and Bill Viola. Plate concludes by questioning whether the Bible serves, in Northrup Frye's terms as a "Great Code," or whether something else is at work with these artists.
"Visual Arts and Culture" appears in Vocabulary for the Study of Religion, a three-volume set edited by Robert Segal and Kocku von Stuckrad and published through Brill. Plate looks at visual arts and culture through the activity of "religious seeing," which he suggests "is comprised of the seeing body-mind, the image, and a four-part scaffolding in which the seer-seen relation is set: textual, architectural, memorable and ritualistic ways of seeing."
Plate also co-authored a chapter in Coen: Reframing Religion in Amoral Order, edited by Elijah Sieglerand and published by Baylor University Press. Written with Sieglerand, "World Creation in Barton Fink" draws on theories articulated by Plate in his 2009 book Religion and Film: Cinema and the Re-Creation of the World.
Plate and Siegler argued that the Coens participate in a process of "world creation" in the film Barton Fink, saying that through the film, viewers are drawn into tighter and tighter layers of these worlds.
Finally, Plate co-edited a special journal issue titled "Audio-Visual Religion in Asia" with John Whalen-Bridge of National University Singapore (NUS). The issue appeared as the December 2015 issue of Material Religion. It grew from a 2014 workshop in Singapore in which Plate participated.
Whalen-Bridge and Plate also co-authored the issue's introduction and edited the work of scholars from around the world working on Asian media and religion.
Plate continues to collaborate with scholars at NUS, and will visit again this summer for a symposium on religion and the environment.