Plate Publishes Two Book Chapters
---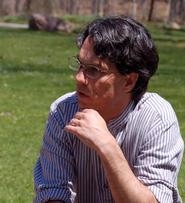 Visiting Associate Professor of Religious Studies S. Brent Plate recently published two book chapters. The first is titled "Looking at Words: The Iconicity of the Page," published in the volume Iconic Books and Texts.
Plate's chapter argues for a new way of approaching sacred texts by exploring the materiality of language. Regardless of their semantic meaning, words are mediations that are only accessible through sound and sight. Examples used include Islamic calligraphy, medieval Christian manuscripts and modern typography, ultimately suggesting that the sensual appearance of words affects interaction, interpretation and devotion. The book is edited by James Watts and published by Equinox Press in London.
Plate also recently published the chapter "Who do you see that I am? Son of Man and Global Perspectives on Jesus Films," in the volume Son of Man: An African Jesus Film. The chapter was co-authored with Darren J. N. Middleton, and investigates the 2005 South African film Son of Man in light of other films about the life of Jesus.
Plate and Middleton suggest that films such as Son of Man, alongside the Iranian film, The Messiah, and the Indian-Telugu film Karunamayudu, are crucial to recognize as Christianity itself is shifting away from its Euro-American dominance toward Africa, Asi and South America. With this, the image of Jesus changes, as well as the image of Christianity as a whole. The book was published by Sheffield Phoenix Press in England.