Poet Ezra Pound, a 1905 Graduate of Hamilton College, Featured in The New York Times
---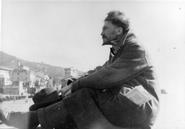 Ezra Pound, a 1905 graduate of Hamilton College, was featured in a New York Times article "Ezra Pound, Musical Crackpot."
Excerpt:
According to an old and highly unreliable story, Pablo Picasso gave a few poems he had written to Gertrude Stein for comment. In the middle of the night, he was roused violently from sleep. It was Miss Stein, shaking him furiously and shouting: "Pablo! Pablo! Get up and paint!" There are times when — listening to "Ego Scriptor Cantilenae: The Music of Ezra Pound," a comprehensive sampling of the poet's little-known musical output — one wants to shout: "Pound! Pound! Write a poem!" More often, though, one listens quite fascinated. Much of it is strangely compelling, if eccentric, stuff.
The career of no other artist, perhaps, so nakedly exposes the fineness of the line dividing crackpot from genius. Pound's crackpot theories of social, racial and economic justice famously landed him in a mental hospital (the only alternative to prison) after World War II. He loved playing the fool, describing his aesthetic theories, the authentic fruit of his genius, in a semiliterate patois familiar to anyone who has read his letters or scanned the titles of his essays (gathered, for example, in a volume called "Guide to Kulchur"). And those theories drove him to compose music despite a confessed inability — vouched for by his fellow poets William Carlos Williams and W. B. Yeats, among others — to carry a tune.
... Pound's musical experiments were a byproduct of his studies in poetic versification. "The grand bogies for young men who want really to learn strophe writing" — that is, composition in strict forms — "are Catullus and Villon," he wrote. "I personally have been reduced to setting them to music, as I cannot translate them."
... "The idea that music and poetry can be separated," he wrote, "is an idea current in ages of degradation and decadence when both arts are in the hands of lazy imbeciles."
To read the entire article go to: