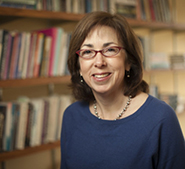 Suzanne Mettler, the Clinton Rossiter Professor of American Institutions in the Government Department at Cornell University, will discuss her newest book, Degrees of Inequality: How the Politics of Higher Education Sabotaged the American Dream (2014), on Thursday, April 24, at 4 p.m., in the Bradford Auditorium, KJ. The event is free, open to the public and sponsored by the Hamilton's government department.
Mettler's research focuses on public policy (including social welfare, tax, health and education policies), American political development, political behavior, civic engagement and inequality. She has been supported by the Russell Sage Foundation, the Spencer Foundation and the Robert Wood Johnson Foundation. She is also a fellow at the Century Foundation and sits on the board of the Scholars Strategy Network. Mettler is the past president of the Politics and History section of the American Political Science Association (APSA) and the president-elect of the association's Public Policy section.
Mettler's work has been featured in countless publications. Her previous books include: The Submerged State: How Invisible Government Policies Undermine American Democracy (2011); Dividing Citizens: Gender and Federalism In New Deal Public Policy (1998), which was awarded the Kammerer Award by the APSA and the Martha Derthick Award; and Soldiers to Citizens: The G.I. Bill and the Making of the Greatest Generation (2005), which was also awarded the Kammerer Award as well as the J. David Greenstone prize by the Politics and History section of the APSA.
Mettler's work has also been published in the numerous scholarly journals, including the American Political Science Review, Perspectives on Politics, and the British Journal of Political Science, among others. She has written op-eds in The New York Times and LA Times, and contributed to The Washington Monthly and Salon.